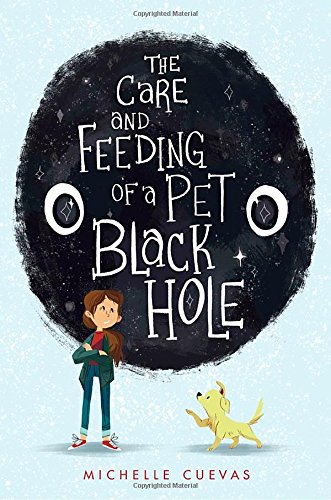 Publisher's Note:
A girl's friendship with a lonely black hole leads her to face her own sadness in this original, funny, and touching middle grade novel for fans of Crenshaw and Flora & Ulysses.

When eleven-year-old Stella Rodriguez shows up at NASA to request that her recording be included in Carl Sagan's Golden Record, something unexpected happens: A black hole follows her home, and sets out to live in her house as a pet. The black hole swallows everything he touches, which is challenging to say the least—but also turns out to be a convenient way to get rid of those items that Stella doesn't want around. Soon the ugly sweaters her aunt has made for her all disappear within the black hole, as does the smelly class hamster she's taking care of, and most important, all the reminders of her dead father that are just too painful to have around.

It's not until Stella, her younger brother, Cosmo, the family puppy, and even the bathroom tub all get swallowed up by the black hole that Stella comes to realize she has been letting her own grief consume her. And that's not the only thing she realizes as she attempts to get back home. This is an astonishingly original and funny adventure with a great big hear.
This book was sent to Compass Book Ratings for review by Dial Books for Young Readers
The Care and Feeding of a Pet Black Hole
by Michelle Cuevas
Overall Review:
From the description of the book you think you are reading about a girl who is into science and finds a pet black hole. However, the description doesn't do this book justice. This book is about a young girl, Stella, who has lost her father. It goes through the process of grief she is experiencing. The black hole is a metaphor for the loss she feels. It is written from the girl's perspective as if she were telling her father the story. The twists and turns of Stella's adventures with this Black Hole keeps you engaged and turning the pages as quickly as you can read them.
This book is so beautifully written and perfect for a grieving or non-grieving child – male or female. Illustrations throughout highlight the storyline with a styling that fits perfectly. Despite the underlying topic, the author is a comedic writer and I found myself laughing out loud. The author really "gets" kids – what they are into, what family life is like, how their minds work – and writes accordingly. I want to look up other books she has written because of how much I related to this book. I loved every bit of this book and highly recommend it!
Content Analysis:
Profanity/Language: None
Violence/Gore: Comedic reference to an axe murder; death of father – non-detailed; minor threw flashlight at another; threat of being devoured; a fly bashed his head against the window repeatedly; comedic reference to body stretching out; minor tried to punch and strangle another.
Sex/Nudity: Reference to minors making out – day dream.
Mature Subject Matter:
Death of parent, grief.
Alcohol / Drug Use:
None
Reviewed By Lacey