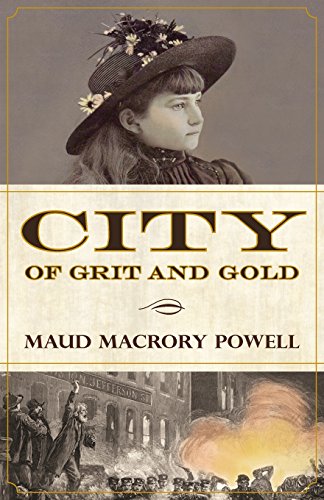 Publisher's Note:
The streets of Chicago in 1886 are full of turmoil. Striking workers clash with police...illness and injury lurk around every corner...and twelve-year-old Addie must find her way through it all. Torn between her gruff Papa--who owns a hat shop and thinks the workers should be content with their American lives--and her beloved Uncle Chaim--who is active in the protests for the eight-hour day--Addie struggles to understand her topsy-turvy world, while also keeping her family intact. Set in a Jewish neighborhood of Chicago during the days surrounding the Haymarket Affair, this novel vividly portrays one immigrant family's experience, while also eloquently depicting the timeless conflict between the haves and the have-nots.
This book was sent to Compass Book Ratings for review by Allium Press of Chicago
City of Grit and Gold
by Maud Macrory Powell
Overall Review:
City of Grit and Gold follows an established Jewish immigrant family who lives in Chicago in 1886. The story follows a young woman, Addie, who is "neither adult nor child but caught somewhere between the two". This book is rich with Jewish culture and traditions, which are challenged by the high hopes and dreams of the younger generation. This historical fiction shows how most problems in society are not one sided by showing the juxtaposition of stable economic family life against the poverty of factory working families.
Readers who enjoyed Lyddie by Katherine Paterson would also enjoy this book as it depicts the struggles of early America and the conditions of factory workers as well as the challenges of discovering who you are amidst an uncertain time. As you follow Addie's family you feel the realness of the issues at hand: immigration, factory work, split families, changing society, injustice, etc.
This is not a light read. The issues are serious and the internal struggle of the main character as to whose side to be on is palpable. There is also a companion guide online with discussion questions and other resources to deepen the exploration of the issues brought up in the book.
Content Analysis:
Profanity/Language: 1 religious exclamation (in a foreign language).
Violence/Gore: Implied trouble in the city; rumor of children being eaten by rats; implied that companies would work men to death; report of men's deaths in strikes; riot ensues – policeman hits man's arm; implied that parades can turn violent; report that policemen have attacked with clubs and sticks; men calling for violence against companies; figurative wolf threatens to bite; boy injured in factories – nearly has limb cut off by knife – description of blood pools and tourniquet/medical procedures; imagined potential wound from needle to eye; boy dies from factory wound; police fire guns on workers; strikers confront workers; minor stuck in a riot with bombs and gunshots; bombs killed policemen – policemen open fire on rioters killing four and injuring dozens; pile of bloody rags from childbirth; man with dislocated shoulder; report of a different man with dislocated shoulder; reset dislocated shoulder; adult slaps minor on the ear; adult grabs adult by the shoulders and shakes; implied being twisted and pulled like a rag; death of a minor; reference to adult death due to typhoid fever; minor collapses from exhaustion; knees stung and left leg throbs; 6 men hung.
Sex/Nudity: One instance of adolescent boy and girl holding hands; one instance describing minor undressing while using the privy; adult unbuttons nightdress to nurse baby.
Mature Subject Matter:
Immigration, maltreatment of immigrants, poverty, labor strikes, parent threatening to throw members out of the family, child birth, factory conditions/injury.
Alcohol / Drug Use:
Description of man too drunk to stand up straight; a group of men standing outside of a tavern; generic description of fathers who limp home late smelling of drink.
Reviewed By Lacey