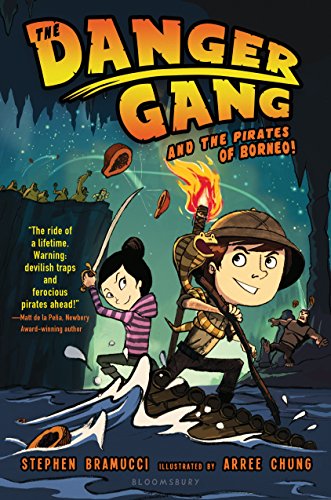 Publisher's Note:
Ronald Zupan is a daring master adventurer! But he actually hasn't experienced any grand adventures . . . YET! When his world-traveling parents are kidnapped on his twelfth birthday, Ronald seizes the chance to prove himself with a dazzling, danger-defying rescue operation.
Teaming up with his trusty butler Jeeves, his quick-witted fencing nemesis Julianne Sato, and his pet cobra Carter, Ronald sets course for the jungle of Borneo where his parents were last sighted. If they can crash-land a plane and outrun a hungry snow leopard, surely they can find the secret lair of Zeetan Z, the world's most ruthless pirate! But as their adventure becomes more and more dangerous, can Ronald and his companions muster enough courage to see this adventure through?
This book was sent to Compass Book Ratings for review by Bloomsbury USA
The Danger Gang and the Pirates of Borneo
by Stephen Bramucci
Overall Review:
Ronald Zupan is one of the "greatest master explorer" of the age, despite only being 11-years-old. He only has one small problem: he can't seem to make it onto any of his parents' (also master explorers) expeditions. But when his parents are captured he has no choice but to form his own team and go rescue them.
The Danger Gang and the Pirates of Borneo by Stephen Bramucci is a fast-paced, hilarious adventure from start to finish. Packed with twists, turns, and high jinx galore, Bramucci provides readers with a tale worthy of Indiana Jones that is told with a decidedly tongue-in-cheek style that makes it not only wildly entertaining but also keeps it accessible to younger readers. With illustrations throughout by the talented Arree Chung, The Danger Gang and the Pirates of Borneo will keep the reader glued to the pages and on the edge of their seats.
Review of an Advance Reader Copy
Content Analysis:
Language/Profanity: None
Violence/Gore: Many implied occurrences of violence/threats; several instances of man and children being held at gun point; a few instances of a boy being man-handled; man and boy locked in closet; character falls several feet; references to a fencing match; many instances of a snake biting people; character is knocked unconscious; large plane crashes, superficial wounds sustained; character passes out; 2 extended fight scenes, involving children, containing brawling, swords and guns; character references a shipwreck; snake catches/eats a rat; group caught in a mudslide; boy knocked unconscious; man and girl caught in a trap; several instances of apes throwing projectiles at people; man kicks other man; character attacked and group chased by leopard; group falls into a sink hole; character breaks leg; boy punches man; character throws rocks at group; group caught in cave in; group sets off several traps; character fears drowning; reference to cutting a man's tongue out; character stung by bee; group caught in net
Sex/Nudity: None
Mature Subject Matter:
Illegal activity, kidnapping.
Alcohol / Drug Use:
References to alcohol.
Reviewed By Amberle