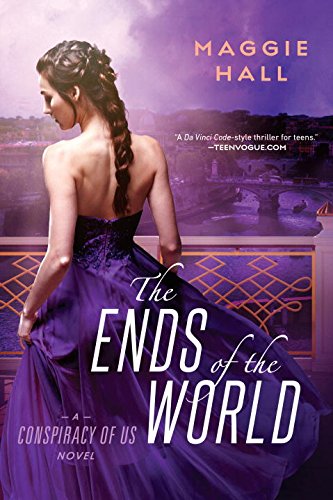 Publisher's Note:
The thrilling conclusion to the romantic adventure series that TeenVogue.com calls, a "Da Vinci Code-style thriller for teens."

Power balances on a knife's edge. Destiny is uncertain. And love is the most terrifying thing of all.

The Circle of Twelve is not who Avery though they were. Neither is Avery.

Her mother is dead. Betrayal and attraction and history have tangled the strings that bind her, Jack, and Stellan. And now, Avery and her friends must put aside their own problems and focus on putting a stop to the most dangerous conspiracy of all . . .

From London to Russia to Egypt, from the chill of underground crypts to the flash of paparazzi cameras, Avery West will finally have to confront whether her fate means salvation--or destruction.
This book was sent to Compass Book Ratings for review by G. P. Putnam's Sons
The Ends of the World (A Conspiracy of Us Novel)
by Maggie Hall
Overall Review:
The Ends of the World is the final installment to the Conspiracy of Us series. Having read book two, Map of Fates, a year ago, I struggled a little to catch up but once I did I was hooked. Book two was enjoyable but this third book was even better. Author Maggie Hall, created the perfect amount of action, suspense, and romance. The relationships developed throughout the series made for a complicated and compelling plot. She also included a few major surprises that will pique your interest. As mentioned in the review of Map of Fates, I was expecting this new part of the story to maybe have some fantasy elements but it turns out that it didn't. However, she took it in a different direction with references to some advanced scientific discoveries from long ago that made it feel a bit like fantasy. Hall wraps the story up nicely with a satisfying ending as she completes the series.
Review of an Advance Reader's Copy
Content Analysis:
Profanity/Language: 5 religious exclamations; 3 mild obscenities; 1 derogatory name; 4 scatological words (in French); 2 anatomical terms; 2 offensive hand gestures.
Violence/Gore: Many (75) brief incidents including characters could die; character dreams about killing someone; characters look for bombs; simile used - like jumping off of a cliff; talking about killing; character looks like they could tear a person apart; reference to the end of the world; verbal threats; threatened with gun; second-hand reports of death and murder; references to wars and natural disasters; second-hand report of a plague getting released; characters have scars on body; reference to virgin sacrifice; reference to terrorist attack; second- hand report of stabbing and torture; reference to character receiving head injury; reference to riots; second-hand report of kidnapping; characters fighting; character knocked unconscious; character has dream about blood and guns to head; character drugged and hallucinating about holding heart; character gets stitches; characters get hand and arms cut; explosion with no casualties; characters smash car window; characters die from a virus; characters get shot and killed; virus spread to many people which causes a lot of blood; character stabbed.
Sex/Nudity: Many (76) brief incidents including touching back; holding arm, face, waist and hands; dancing; reference to making out; head on shoulder; hugging; kissing; cuddling; playing with hair; arm around; flirting; character jokingly asks another if she wants to go skinny dipping; reference to affairs; innuendo; reference to having to consummate marriage; ref to virgin sacrifice; male character takes shirt off in front of female character; reference to thinking "impure thoughts"; a few incidents of homosexual relations including cuddling, hand holding, etc; innuendo; female character wears low-cut dress; female touches male character's bare chest; character touches another's hip; male character holds female character in lap; touching legs; characters sleep beside each other; implied sex; reported sex; character grabs another's butt; characters make out while she straddles him and touches hips.
Mature Subject Matter:
Death, murder, family conflict, homosexuality, implied and reported sex.
Alcohol / Drug Use:
Characters drink at a party; character wants to drink wine; reference to a character having too many drinks; character smokes a cigarette; man chews tobacco; reference to grandma who carries scotch everywhere; characters get drugged; characters drink at a party.
Reviewed By Jenny