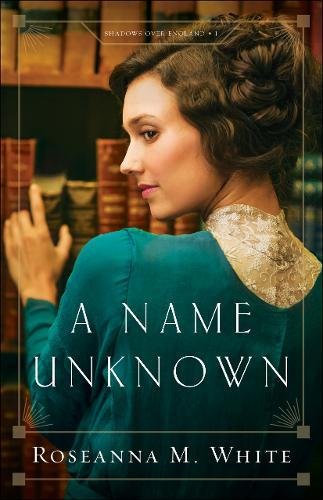 Publisher's Note:
She's Out to Steal His Name. Will He Steal Her Heart Instead?

Rosemary Gresham has no family beyond the band of former urchins who helped her survive as a girl in the mean streets of London. Grown now, they are no longer pickpockets--instead they focus on high value items and have learned how to blend into upper-class society. Rosemary is beginning to question whether she can continue in this life when she's offered the challenge of a lifetime--determine whether a certain wealthy gentleman is loyal to Britain or to Germany. After all how does one steal a family's history, their very name?

As Europe moves ever closer to World War I, rumors swirl around Peter Holstein. Awkward and solitary, but with access to the king, many fear his influence. But Peter can't help his German last name and wants to prove his loyalty to the Crown--so he can go back to anonymously writing a series of popular adventure novels. When Rosemary arrives on his doorstep pretending to be a well-credentialed historian, Peter believes she's the right person to help him dig through his family's past.

When danger and suspicion continue to mount, both realize they're in a race against time to discover the truth--about Peter's past and about the undeniable attraction kindling between them.
This book was sent to Compass Book Ratings for review by Bethany House Publishers
A Name Unknown
by Roseanna M. White
Overall Review:
A Name Unknown is an intriguing start to Roseanna M. White's Shadows Over England series. The author has a way with characters and an ability to entice the readers to enter their world. This story is set in the days leading up to and entering World War I.
The female protagonist is Rosemary Gresham, an orphan, professional thief, and most recently, librarian. The relationship between Rosemary and her employer Peter Holstein is endearing and sweet. Romantics will find this worth their time and the ending is quite pleasing. The exchange of notes between Rosemary and Peter is intriguing, because the author elects not to share each one verbatim.
Some interesting twists in the story make for some great drama and uncertainty. Perhaps the biggest question is whom will Roseanna M. White select as the subject of her next novel. Will those characters be equally intriguing? This series is certainly off to a great start!
Content Analysis:
Profanity/Language: None
Violence/Gore: Report of a child kicked by an adult and trampled by a horse, not fatal; a person is shot with an arrow and blood flows from the wound; a couple of fist fights take place; report of a woman receiving bruises from her spouse; a character is kidnapped, gun shots are fired and characters are grabbed by others.
Sex/Nudity: Non-married characters kiss and embrace; a few instances in which characters are called hussies and harlots.
Mature Subject Matter:
Death of parents, poverty, deception.
Alcohol / Drug Use:
Adults consume different alcohols and in some cases are drunk.
Reviewed By Susan