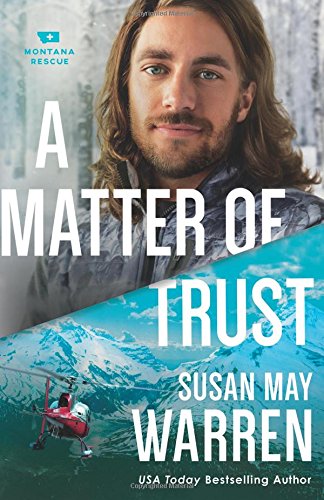 Publisher's Note:
Champion backcountry snowboarder Gage Watson has left the limelight behind after the death of one of his fans. After being sued for negligence and stripped of his sponsorships, he's remade his life as a ski patrol in Montana's rugged mountains, as well as serving on the PEAK Rescue team. But he can't seem to find his footing--or forget the woman he loved, who betrayed him.

Senator and former attorney Ella Blair spends much of her time in the limelight as the second-youngest senator in the country. But she has a secret--one that cost Gage his career. More than anything, she wants to atone for her betrayal of him in the courtroom and find a way to help him put his career back on track.

When Ella's brother goes missing on one of Glacier National Park's most dangerous peaks, Gage and his team are called in for the rescue. But Gage isn't so sure he wants to help the woman who destroyed his life. More, when she insists on joining the search, he'll have to keep her safe while finding her reckless brother, a recipe for disaster when a snowstorm hits the mountain.

But old sparks relight as they search for the missing snowboarder--and suddenly, they are faced with emotions neither can deny. But when Ella's secret is revealed, can they learn to trust each other--even when disaster happens again?
This book was sent to Compass Book Ratings for review by Revell
A Matter of Trust
by Susan May Warren
Overall Review:
The Montana Rescue series by Susan May Warren continues with the third installment entitled A Matter of Trust. The setting alone is reason to investigate this series. Set in Montana in and around Glacier National Park, this novel lures readers with the beauty of the rugged country.
The characters of the story are best understood by reading the previous books, but it is not essential. The PEAK rescue team is a tight knit group and readers will want to enjoy their histories. The main characters in this book are not really involved with previous books, but the members of the PEAK rescue team are.
Generally speaking, the plot is similar to that of the previous stories in that the main characters struggle with personal issues and have to work them out before they can move forward in their relationships. While the moving forward part of the romance was decent, this reader found it unbelievable. The author was clearly trying to show the power of forgiveness and redemption, but it is really hard to believe that a person who deliberately sabotaged someone's future could be trusted with his heart.
The snowboarding scenes were interesting and appealing even for those who don't care much about snow sports. Enjoy the scenery and descriptions, but be prepared to want to read more in order to discover the stories of some of the other PEAK team members.
Content Analysis:
Profanity/Language: None
Violence/Gore: A person has a severely broken ankle, with description of a protruding bone and mention of blood; report of a person knocked into a crowded pool and being inadvertently kicked several times; report that a person died in a bombing; several injuries mention blood, weapon fired at wild animal.
Sex/Nudity: Character uses word sexy; non-married characters kiss, hold hands and embrace.
Mature Subject Matter:
Death of parents, betrayal.
Alcohol / Drug Use:
Person mentions a teen used to use marijuana; an adult has a glass of cognac; a teen is drinking beer; report that a person had evidence of marijuana in the body.
Reviewed By Susan