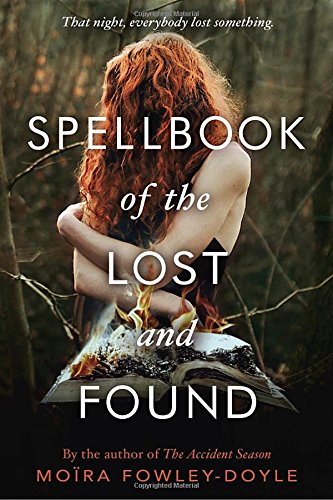 Publisher's Note:
One stormy Irish summer night, Olive and her best friend, Rose, begin to lose things. It starts with simple items like hairclips and jewelry, but soon it's clear that Rose has lost something much bigger, something she won't talk about, and Olive thinks her best friend is slipping away.
Then seductive diary pages written by a girl named Laurel begin to appear all over town. And Olive meets three mysterious strangers: Ivy, Hazel, and her twin brother, Rowan, secretly squatting in an abandoned housing estate. The trio are wild and alluring, but they seem lost too—and like Rose, they're holding tight to painful secrets.
When they discover the spellbook, it changes everything. Damp, tattered and ancient, it's full of hand-inked charms to conjure back things that have been lost. And it just might be their chance to find what they each need to set everything back to rights.
Unless it's leading them toward things that were never meant to be found...
This book was sent to Compass Book Ratings for review by Kathy Dawson Books
Spellbook of the Lost and Found
by Moira Fowley-Doyle
Overall Review:
Spellbook of the Lost and Found is going to make you feel lost, for a good chunk of the book. And while in the end the story is interesting, the overall strangeness of the book leaves it a bit lacking.
Grab a piece of scrap paper to keep by your side for the first 70 or so pages of this book. All the characters are introduced in these pages and it takes some mental calisthenics to keep straight which characters go with which and how they fit together. Once you get past this point, all the pieces start to fall together and it makes a lot more sense.
Each chapter is told from a different character's perspective, so timelines do tend to overlap. If you are a person who doesn't like novels that don't have a strictly linear flow, this one isn't for you. I found the different perspectives highly interesting, especially as found items start returning. It was fun to start guessing what items would turn up with whom.
The prose in the book is a bit choppy at times. It could be due to the book being largely written in United Kingdom English versus American English, which some readers may find difficult. The sentence structure is a little awkward in places likely due to the same issue and different patterns of speech between cultures.
The book takes a turn for the definitively strange toward the end. The plot gets quite dark and sinister and the settings get more and more creepy. However, the last few chapters have a redeeming quality and rescue the overall tone of the book. Overall, a decent read with some unique characters.
Review of an Advance Reader Copy
Content Analysis:
Profanity/Language: 15 religious exclamations; 12 mild obscenities; 3 religious profanities; 4 derogatory names; 26 scatological words; 5 anatomical terms; 2 offensive hand gestures; 27 f-word derivatives.
Violence/Gore: Punch to nose with blood; verbal threat of bodily harm; scraped knees and bloody noses; boys fist fight with resulting bruises; teens cut hands willingly with blade for spell with graphic blood (twice); recounting of setting fire (teen thinks) with parents locked inside building; recounting of being burned when trapped in fire; possible sexual assault of teen girl (girl is not sure what did or did not happen).
Sex/Nudity: Hand-holding (twice); kissing (8 times); discussion of being bisexual; girl's raise skirts to point underwear is showing; girl walks around house in bra and underwear with others present; teen boys and girls swim naked together with graphic depiction of stripping; 2 page recounting of potential sexual assault with resulting text messages that are very explicit; 2 page discussion about losing virginity with minimal detail; 2 page scene of teens having oral sex and sex with graphic imagery (twice); boy sits in kitchen with shirt off.
Mature Subject Matter:
Death of family member, suicide, sexual assault, abandonment, homelessness, spousal abuse, addictions, marriage infidelity, magic, witchcraft, gender/sex identity issues, underage drinking, smoking, alcoholism, illegal moonshine making.
Alcohol / Drug Use:
Teens and adults drink wine, hard liquor and beer.; teens and adults smoke.
Reviewed By Beckie