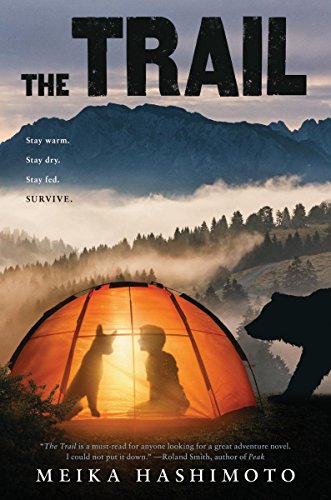 Publisher's Note:
Toby has to finish the final thing on The List.

It's a list of brave, daring, totally awesome things that he and his best friend, Lucas, planned to do together, and the only item left is to hike the Appalachian Trail. But now Lucas isn't there to do it with him.

Toby's determined to hike the trail alone and fulfill their pact, which means dealing with the little things -- the blisters, the heat, the hunger -- and the big things -- the bears, the loneliness, and the memories.

When a storm comes, Toby finds himself tangled up in someone else's mess: Two boys desperately need his help. But does Toby have any help to give?

The Trail is a remarkable story of physical survival and true friendship, about a boy who's determined to forge his own path -- and to survive.
This book was sent to Compass Book Ratings for review by Scholastic
The Trail
by Meika Hashimota
Overall Review:
A heart-wrenching novel of guilt, forgiveness, promises kept, bravery, and survival. Yet, at the same time, The Trail by Meiko Hashimoto is an adventure story of hiking the Appalachian Trail. Toby, a soon to be middle schooler, is determined to make it to the end of the Trail, Mt. Katahdin in Maine. His determination to do this all on his own stems from Toby carrying around an overwhelming sense of guilt, and he is searching for a feeling of forgiveness and closure. Along the way Toby meets an array of people who either help him in a direct way with food or company, or help him unknowingly to a little more self-discovery and reconciliation.
The Trail is a novel that will leave the reader thinking of how they deal with tragedy and come to closure and find forgiveness. Toby is mature beyond his years and his growth and maturity is what makes this an intriguing yet somewhat of a heart-wrenching novel.
Content Analysis:
Profanity/Language: None
Violence/Gore: Secondhand account of person holding another person under the water in a threatening way; secondhand account of someone biting another person in an attempt to stop him from bullying someone; secondhand account of boy being physically abused; secondhand account of two boys wrestling and one getting injured by hitting his eye on a table corner; character stands on edge of cliff contemplating suicide; secondhand account of someone jumping into water and landing on hidden rocks resulting in their death; man tries to force a kid into his car; man pushes kid to the ground; character tries to take something back from a man and gets pushed to the ground; secondhand account of man abusing a dog; man points gun at characters and threatens to shoot them.
Sex/Nudity: None
Mature Subject Matter:
Divorce, abuse, attempted suicide, attempted child abduction.
Alcohol / Drug Use:
A man is described as smelling of booze.
Reviewed By Sally