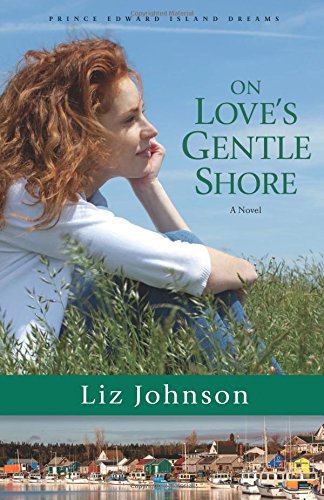 Publisher's Note:
Natalie O'Ryan had no plans to return to Prince Edward Island. But when her fiancé books their wedding in her hometown and schedules a summer at Rose's Red Door Inn, she sets out to plan the perfect wedding. Yet she can't possibly plan for a run-in with Justin Kane--the best friend she left behind all those years ago after promising to stay.

Justin has never forgotten Natalie. He'd been prepared to follow her off the island until tragedy struck, leaving him to run the family dairy farm. He's done the best he can with the life that was thrust upon him--but with Natalie back in the picture, he begins to realize just how much joy he's been missing.

After Natalie's reception venue falls through, she must scramble to find an alternative, and the only option seems to be a barn on Justin's property. As they work together to get the dilapidated building ready for the party, Natalie and Justin may discover that there is more between them than broken promises and an old friendship
This book was sent to Compass Book Ratings for review by Revell
On Love's Gentle Shore
by Liz Johnson
Overall Review:
On Love's Gentle Shore is the third book in Liz Johnson's Prince Edward Island Dreams. The previous two novels contain the stories of characters met in this novel, but it is not essential to have read those books to appreciate the story. The idyllic setting of Prince Edward Island will draw all those who have already fallen in love with the location and entice those who have not to want to go there.
The premise of this story is similar to the other stories in the series. Namely, the lead character is dealing with difficult challenges and has come to the island where the person learns about love and forgiveness. This story is especially touching emotionally. Perhaps this has to do with the abusive childhood the main character, Natalie O'Ryan, endured.
Natalie O'Ryan's character tugs at the heart strings. It is sad to see how her childhood experiences are still influencing her and affecting her choices. Her best friend from childhood was Justin Kane, and Natalie has been estranged from him for many years. Justin's character and the way he knows Natalie so well is endearing and really draws the reader. Another side to this is watching Natalie discover that more than just Justin and his mother truly care and cared about her.
Romantics will enjoy this story because it has plenty of romantic undertones, but involves a love that is deeper than just physical attraction. The relationships are believable and enjoyable. This is a heartwarming story that does not rely on trite phrases or whirlwind romances to attract its readers.
Content Analysis:
Profanity/Language: None
Violence/Gore: Report that a child got into a scuffle and had a bloody nose; report of a child being physically abused by a parent - this is referenced many times, but not described in great detail.
Sex/Nudity: Many mentions that a man was unfaithful to his wife; report that a woman was called a whore; non-married characters kiss, hold hands and embrace.
Mature Subject Matter:
Child abuse, alcoholism, death of a parent.
Alcohol / Drug Use:
Character mentions that her father was an alcoholic; a man refuses an offer of a glass of wine.
Reviewed By Susan