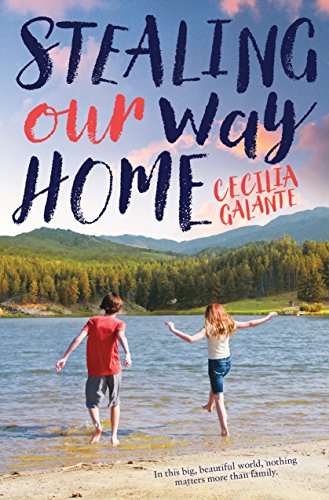 Publisher's Note:
Everything changed after Pippa and Jack's mother died last spring. Pippa stopped speaking, Jack started picking fights, and their father's struggling business began to fail. Now, with school starting again, Pippa doesn't know how she'll manage a class presentation on Spartan warriors when she can't even find the words to tell her father that she wishes he were home more. And Jack is struggling to understand his feelings for the mysterious girl next door.
But when Jack and Pippa realize that their dad is getting so desperate for cash to keep the family afloat that he might be going to extreme -- and illegal -- lengths to make ends meet, they are faced with the biggest decision of their lives. How far are they willing to go to keep their family together?
Stealing Our Way Home is a poignant, deeply affecting novel about falling apart, finding your voice, and the power of letting go.
This book was sent to Compass Book Ratings for review by Scholastic Press (A Scholastic Imprint)
Stealing Our Way Home
by Cecilia Galante
Overall Review:
Stealing Our Way Home is the story of a family and what family means when the going gets tough. It is a redemptive journey through the eyes of ten-year-old Pippa and twelve-year-old Jack. It is a short, rainy day read for young and older readers alike.
At first, I was very turned off by Jack and Pippa. It was hard to believe in them as authentic characters given their age and actions. For instance, their father sends them to the store with his credit card to buy school clothing. Jack seems to know exactly what to do and what to buy. I could have found that more believable behavior for a twelve-year-old boy if the story was set in New York City, but this story is set in small town Vermont. The actions of Jack, mostly, just seemed out of sync with his age. However, as the story developed, it did become less of an issue for me.
Pippa, on the other hand, I found to be a completely believable. Selective mutism in response to trauma, in this case death of her mother, and her responses and actions seem to be those of an average girl her age. Her friendship with the next-door neighbor-lady adds to the charm she has as a character. When Pippa finds her voice, she also finds the way out of profound grief and brings the family together.
I enjoyed the redemptive quality of the story and the underlying current of defining family and what it means when one says family matters most. The author did a fantastic job of highlighting in the last few chapters that sometimes that means standing up for what's right even when it is family in the wrong. Readers will come away with a definition of family and the ties that bind.
Review of an Advance Reader Copy
Content Analysis:
Profanity/Language: 6 religious exclamations; 1 mild obscenity.
Violence/Gore: Story of cracking head open when walked into door; boys push and shove; story of man having leg amputated when hit by train (no graphic detail); boy throws notebook across room; report of death in car accident; girl kicks brother in arm; report of being bit by dog (no graphic detail); fall from bike results in bloody knee; boy squeezes girl's wrist in anger (no injury); boy step's on girl's foot; story of verbal threat during bank robbery; 1 and a half page scene of dodgeball game that escalates into violence and ends with boys in fist fight with black eyes and split chins.
Sex/Nudity: Pre-teens hold hands once; story of parent's first kiss told by father.
Mature Subject Matter:
Death of child and family member, divorce, separation, serious illness (cancer), unemployment, bankruptcy, robbery, alcoholism, abandonment.
Alcohol / Drug Use:
Adult female smokes pipe tobacco; report of mother's alcoholism.
Reviewed By Beckie