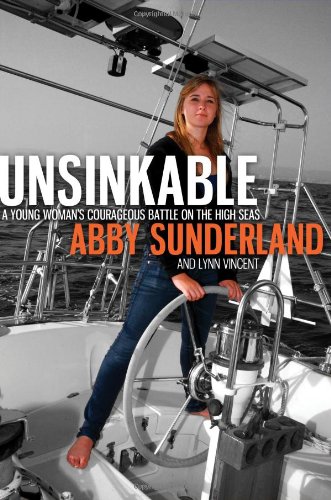 Publisher's Note:
Abby Sutherland grew up sailing.
Her father, Laurence, a shipwright, and her mother, Marianne, wanted their kids to develop responsibility, to see other cultures, to experience the world instead of watching it on TV. So they took them sailing down the coast of Mexico... for three years.
When Abby was thirteen, she began helping her father deliver boats and soon was sailing solo. She loved being on the open ocean, the spray in her face, the wind in her hair. She began to dream of sailing the world.
But fewer people have successfully solo-circumnavigated the globe than have traveled into space. It is a challenge so immense that many have died trying, and all have been pushed beyond every physical, emotional, psychological, and spiritual limit.
In Unsinkable, you will follow Abby into the depths through a gripping and evocative firsthand account that starts prior to her departure, travels through her daring (and sometimes near-death) encounters on the open sea, to her dramatic rescue in the remotest part of the Indian Ocean. Today, when the most productive thing a teenager may do is play videogames, Abby's courage and tenacity shows us all what can happen when we choose to challenge our own limits, embrace faith, and aim for what our critics say is impossible.
It was pitch-black out and whitewater was crashing over the boat. The wintry wind screamed across the deck, and I could tell it was now holding up near fifty knots. Imagine standing on the roof of a car that's driving down the freeway. That's how hard it was blowing.
At that moment, a huge gust hit the mainsail like a train. The boat heeled over to port as if a giant hand had smacked her down, and I tumbled over the top of the mainsail toward the water...
On January 23, 2010, sixteen-year-old Abby Sunderland set sail from Marina del Rey, California, in an attempt to become the youngest person to sail solo, nonstop, and unassisted around the world. Immediately, her trip sparked controversy. What was a girl her age doing undertaking such a voyage? What were her parents thinking?
Abby's critics predicted she'd make it a few weeks at most. But sailing south, she proved them wrong and became the youngest person to solo around Cape Horn, the "Mt. Everest of sailing." Crossing the Southern and Atlantic oceans, she battled vicious storms and equipment breakdowns- making one critical repair literally with a nail file and some line. Abby bested the wicked waters at the southern tip of Africa and then entered the Indian Ocean- all twenty-seven million square miles of it.
Even less than a hundred years ago, having your boat become disabled in the middle of the Indian's immense rolling reaches was as good as a death sentence. The odds are better now, but not much. It was here that Abby Sutherland encountered the violent storms that would test her mettle and her will to survive- and change her life forever.
This book was sent to Compass Book Ratings for review by Thomas Nelson
Unsinkable: A Young Woman's Courageous Battle on the High Seas
by Abby Sunderland
Overall Review:
Unsinkable is a book best described as a pleasant surprise.
I was pleasantly surprised by the Sunderland family and their daring approach to parenting. I was also pleasantly surprised by Abby Sunderland's writing style. It made me feel like a friend, come for a casual afternoon chat, who quickly finds themselves captivated by this 16-year-old's adventure at sea. Most surprising, though, was how a story about a failed attempt to achieve a goal could read so much like a success.
Written in three different voices, the reader is allowed to travel with Abby, follow what is happening with her dedicated support team and, later on, rescue team, as well as gain some knowledge about sailing as a whole. The authors do an excellent job of keeping those who have never sailed informed of what all the technical sailing terms mean, so there is no loss of reading enjoyment if you don't know your boom from your bowsprit.
There are many lessons on life to be gleaned from the pages of this book, most of them delivered by Abby herself. Such is the case with this wise statement: "You can go through tough circumstances and come out on top, but how you handle the in-between, that's what makes you the person you are."
Unsinkable is an interesting and entertaining memoir that leaves you feeling glad you read it.
Content Analysis:
Profanity/Language: None
Violence/Gore: Two non-life threatening injuries are described with blood mentioned.
Sex/Nudity: None
Mature Subject Matter:
Death of a friend
Alcohol / Drug Use:
***
Reviewed By Ambra