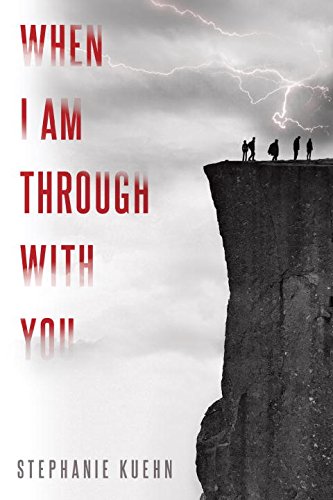 Publisher's Note:
A gripping story of survival and the razor's-edge difference between perfect cruelty and perfect love.

"This isn't meant to be a confession. Not in any spiritual sense of the word. Yes, I'm in jail at the moment. I imagine I'll be here for a long time, considering. But I'm not writing this down for absolution and I'm not seeking forgiveness, not even from myself. Because I'm not sorry for what I did to Rose. I'm just not. Not for any of it."

Ben Gibson is many things, but he's not sorry and he's not a liar. He will tell you exactly about what happened on what started as a simple school camping trip in the mountains. About who lived and who died. About who killed and who had the best of intentions. But he's going to tell you in his own time. Because after what happened on that mountain, time is the one thing he has plenty of.

Smart, dark, and twisty, When I Am Through With You will leave readers wondering what it really means to do the right thing.
This book was sent to Compass Book Ratings for review by Dutton
When I Am Through with You
by Stephanie Kuehn
Overall Review:
Strangely dark and twisted, YA author Stephanie Kuehn spins out yet another thriller with her latest book, When I am Through with You.
The protagonist, high school senior Ben, gives his account of events leading up to a school camping trip, and how self-seeking choices result in calamity leading to a deadly venture that no one can return from.
The book primarily consists of two parts: the first half is acquainting readers with the characters participating in the school campout, and the second half chronicling the fatal foray.
The story advances slowly while Ben mournfully elaborates his sexual excursions, his toxic relationship with his girlfriend, and an even unhealthier one with his single mother, who is both physically disabled and an alcoholic, which leaves her co-dependent on her teenage son. All this tragedy is weighted down even more as Ben continues to record his depressing outlook on life and how he views his fellow campers – let's just say he doesn't think too highly about most of them.
The second half of the novel turns from moody misgivings to drastically violent as characters continue to make one increasingly senseless decision after another.
While it is enjoyable in a novel to have characters who are flawed, these characters were all selfish and narcissistic; thus, I did not feel invested in their journey because there was no personal development.
The one thing that piqued my interest while reading was the author's snippets of Ben's past. The author's placement of these innuendos gripped my attention with this alluring mystery. The author also has a talent for creating character relationships that are psychologically complex, and situational choices that have multiple repercussions.
Depraved, explicit, and perverted with an excessive amount of erotic adult topics (please see content analysis and subject matter below), the only thing keeping this title in the YA category is the age of the characters.
Review of an Advance Reader Copy
Content Analysis:
Profanity/Language: 24 religious exclamations: 6 mild obscenities; 12 religious profanities; 13 derogatory names; 81 scatological words; 56 anatomical terms; 3 offensive hand gestures; 61 f-word derivatives.
Violence/Gore: Report (mentioned a few times throughout novel) of a parent driving drunk and wrecking their car, possibly with the intent to kill their child who was the passenger; few times character has the urge to be violent; few threats/implications of violence; report of suicide; character accidentally cuts themselves, passes out; character admits to attempting suicide as a child; report of parent's death; news report of prison break out; memory of mother being beaten by their boyfriend; extended scene (about 2 pages) character admits to murdering an adult as a child (incident mentioned throughout novel) extended scene (about 3 pages) bloody body found, characters are tied up and held at gun point, injuries are mentioned; character hits another character in the face, drawing blood; character is hit on the head; discussion of murder; character shoots another character dead; extended scene (about 3 pages) non-detailed scenes of violent deaths as characters shoot one another with guns, fight physically, explosion causing injuries with mild blood and gore; description of character's non-lethal gunshot wound; few times character examines another character's gunshot wound, different descriptions using mild blood and gore; character cracks another character's head with the butt of a gun; extended scene (about 1 page) character recounts how they intentionally killed an adult as a child; character remembers as child witnessing his mother being raped repeatedly; character kicks another character; teen character implies parent physically abuses them; character recounts how their father let his sister drown; report of character dying from exposure; teen reports they had a mental breakdown and had to be hospitalized; report of character being suicidal and self-harming; character shoots another character in the head believing it is an act of mercy.
Sex/Nudity: Teenage individuals decide to become a romantic couple; extended scene (about 1 page) teen character reports their first time kissing, touching areas normally covered by a bathing suit, being naked and having sex; several (15+) sexual innuendos/references both for heterosexual and homosexual characters; character admits to masturbating; about 20 mentions of heterosexual and homosexual couples kissing and/or holding hands; extended scene (about ½ page) memory of parent warning character about sex; few times slang is used for female breasts and male genitalia; teen couple kisses and touch each other's privates; married couple reports failure to reproduce children; teen admits to watching porn; extended graphic scene (about ¾ page) teens have sex and oral sex; mention that another character is a homosexual; male character becomes aroused when seeing a female bend over in tiny shorts; male notices female's cleavage; teen gets caught looking at pornography; teens have sex, lay next to each other partially unclothed; teen couple sleep naked next to each other; male teen touches female teen's naked breasts; male teen remembers female teen touching his genitals; extended explicit scene (about ½ page) teens have sex; extended scene (about ¼ page) male teen talks about being aroused by female teen; extended scene (about 2 pages) teens watch naked adults bathe; male teen looks at adult woman's bare breasts; mention of menstrual cycle; teen finds condoms; son admits to lying in bed next his mother (sexual undertone detected); mention of pornography; character remembers as child witnessing his mother being repeatedly raped; teen character recalls getting drunk and female teen touching him in places normally covered by a swimsuit; male character helps another male undress (non-sexual); male has a desire for romance.
Mature Subject Matter:
Childhood trauma/PTSD, physical/mental abuse, alcoholism, teen use of drugs and alcohol, unfit parent, teen sex, murder/death, traumatic event(s), theft, depression, suicide, rape.
Alcohol / Drug Use:
Adults and teens smoke/chew tobacco, drink alcohol; some teen and adult characters are alcoholics; use/ abuse street and prescription drugs; suspicion that teen and adults sell and deal drugs.
Reviewed By MaryLou