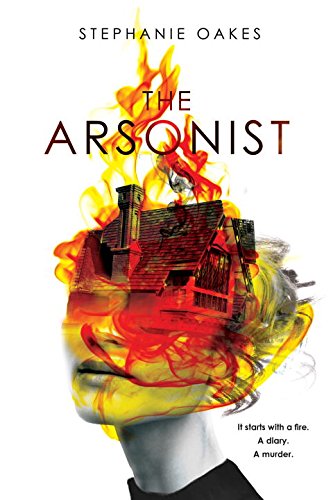 Publisher's Note:
Code Name Verity meets I Am the Messenger in this riveting YA novel from Morris Award finalist Stephanie Oakes, in which three points of view are woven together in a story that's part Cold War mystery, part contemporary coming-of-age, and completely unputdownable.

Molly Mavity is not a normal teenage girl. For one thing, her father is a convicted murderer, and his execution date is fast approaching. For another, Molly refuses to believe that her mother is dead, and she waits for the day when they'll be reunited . . . despite all evidence that this will never happen.

Pepper Al-Yusef is not your average teenage boy. A Kuwaiti immigrant with epilepsy, serious girl problems, and the most useless seizure dog in existence, he has to write a series of essays over the summer . . . or fail out of school.

And Ava Dreyman—the brave and beautiful East German resistance fighter whose murder at seventeen led to the destruction of the Berlin Wall—is unlike anyone you've met before.

When Molly gets a package leading her to Pepper, they're tasked with solving a decades-old mystery: find out who killed Ava, back in 1989. Using Ava's diary for clues, Molly and Pepper realize there's more to her life—and death—than meets the eye. Someone is lying to them. And someone out there is guiding them along, desperate for answers.

At turns heart-racing, hilarious, and heartbreaking, The Arsonist is an intricate tapestry—of love, loss, and the mysterious connections between us all.
This book was sent to Compass Book Ratings for review by Dial Books for Young Readers
The Arsonist
by Stephanie Oakes
Overall Review:
If you are a teenager, what do you do in the weeks leading up to the execution of your father? If you are Molly Mavity, you make friends with a Kuwaiti immigrant high school dropout and attempt to solve a decades old murder.
The Arsonist is a story within a story. The lead story is that of Molly Mavity. Molly's mother has committed suicide, although Molly refuses to believe that she is dead. Her father, Winston, is a serial arsonist on death row after being convicted on numerous counts of murder-arson. A key to a safe deposit box results in a book with more questions than answers and sends Molly on a journey that will change her life.
Enter Pepper, a Kuwaiti refuge and high school dropout, his seizure pug and Ava, a teenage West German girl who sparked a fire that would lead to the tearing down of the Berlin Wall.
Written in first person narrative from the perspective of all characters, this book jumps back and forth between current day and the late 1980's. The narrative is easy to follow. Although I did find myself being far more interested in the sub-story of Ava than I was in Molly and Pepper's story. By the end of the book, all three stories are intertwined, which made it a little more palatable.
The subjects tackled in this book aren't easy and historical context should be provided for higher middle grade and lower high school age readers. More mature readers likely have personal experience with the cultural context of the Cold War. The Arsonist is a good read and readers will find themselves turning pages until the very end.
Content Analysis:
Profanity/Language: 16 religious exclamations; 14 mild obscenities; 3 religious profanities; 7 derogatory names; 24 scatological words; 18 anatomical terms; 15 f-word derivatives.
Violence/Gore: Report of punch to head in pool; report of six arson-murders; foot shattered when hit by train; items thrown across room at person; scratches to face; woman lights building on fire resulting in deaths; verbal threats of bodily harm; oils wells set on fire deliberately; report of woman killed in explosion; repeated reference to woman's suicide; shove to throat; fictional story of man shot in head; woman teaches teen how to commit arson; report of poisoning with arsenic resulting in four deaths; multiple references to teen girl being stabbed in ribs; man shot in head with depiction of brain matter splattering; bang of head when car breaks suddenly; threats with knife and baseball bat; newspaper clippings describing arson; man stabs self in chest with graphic detail and blood depiction; fall to rocks with no injury; mental patient defects described such as severe cleft palate and hole in chest; report of death via falling satellite; report of child hitting dad's head with baseball bat; teen starts fire in hospital to escape; knife held to neck resulting in slight cut; papers started on fire and dropped on people; 2 page fight with knife and bloody neck wound; smack to head; man killed by lethal injection; 2 page scene of drowning in pool.
Sex and Nudity: 5 instances of discussion about sex, one of which contains graphic detail; touch to knee; holding hands; crude joke told regarding male genitalia; report of kissing.
Mature Subject Matter:
Racial conflict, death of family member, suicide (considered and completed), war, serious illness, mental disorders, incarceration of parent, ethics, arson, stealing, murder.
Alcohol / Drug Use:
Smoking by adults and underage drinking.
Reviewed By Beckie