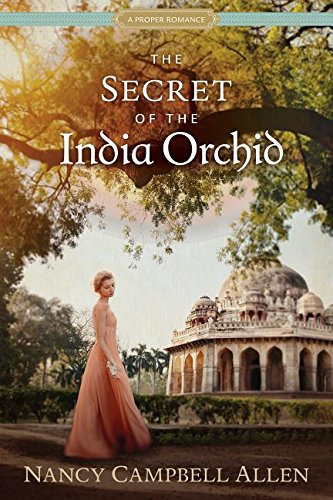 Publisher's Note:
Anthony Blake is in love with his best friend's sister, Sophia Elliot. But his plans to court her are put on hold when he is forced to resume his role as an undercover spy for the Crown. A secret document listing the names of the entire network of British spies-including his own-has been stolen. To protect Sophia, Anthony cuts off all ties to her and exchanges his life as an honorable earl for the facade of a flirtatious playboy.

Heartbroken and confused, Sophia travels to India, hoping to find healing in one of the most exotic regions of the British Empire. But the exotic land isn't as restful as she had hoped. Instead, she finds herself embroiled in a mystery of a missing sea captain, a possible murder, and a plot that could involve the prince of India. And when Anthony appears at the British Residency, asking questions and keeping his distance from her, she is stunned.

She still loves him, and, in her heart, she knows he loves her too. But how can she rebuild her relationship with him if he won't confide in her? Does she dare offer her heart to him a second time, or will their love be lost under the India sun?
This book was sent to Compass Book Ratings for review by Shadow Mountain
The Secret of the India Orchid
by Nancy Campbell Allen
Overall Review:
The Secret of the India Orchid is a fantastic novel with an intriguing plot, strong female characters, and an exotic setting. Author Nancy Campbell Allen pens this beautiful Regency romance -- her third book for Shadow Mountain's Proper Romance line. Besides a sweet love connection, The Secret of the India Orchid includes a murder mystery complete with fast pacing and daring adventure. Set in the nineteenth century, Campbell Allen leaves behind dour Regency England and sets her narrative against a colorful British-occupied India backdrop. The change in setting is refreshing and adds additional layers of interest and intrigue. While the novel includes a multitude of characters, the women particularly shine with their varied personalities and strong roles. The Secret of the India Orchid is a book that can't be missed!
Review of Advance Reader Copy
Content Analysis:
Profanity/Language: None
Violence/Gore: A few implied occurrences of violence including a mysterious puddle of blood; a few verbal threats, including a threatening letter and a knife held up against a character's neck; a few secondhand reports of violence, including murder, physical abuse, domestic abuse and attempted abduction of a child; a brief scene of violence occurs when a character is pistol whipped; a few non-detailed scenes of violent death include a shooting and the sati tradition.
Sex/Nudity: Several incidents of kissing; a few sexual references, including a mention of brothels.
Mature Subject Matter:
Murder, philandering husband, domestic abuse, death of family members, attempted child abduction and endangerment, threats of violence, "gaming holes", ancient "sati" tradition (widow of deceased commits suicide or is murdered).
Alcohol / Drug Use:
Characters drink at several social events; character has a mouth of tobacco.
Reviewed By Rachel