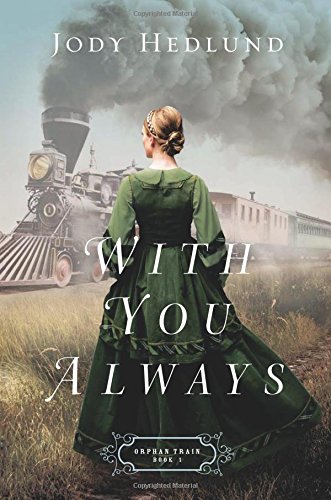 Publisher's Note:
A Riveting Look at the Orphan Train from Historical Novelist Jody Hedlund

When a financial crisis in 1850s New York leaves three orphaned sisters nearly destitute, the oldest, Elise Neumann, knows she must take action. She's had experience as a seamstress, and the New York Children's Aid Society has established a special service: placing out seamstresses and trade girls. Even though Elise doesn't want to leave her sisters for a job in Illinois, she realizes this may be their last chance.

The son of one of New York City's wealthiest entrepreneurs, Thornton Quincy faces a dilemma. His father is dying, and in order to decide which of his sons will inherit everything, he is requiring them to do two things in six months: build a sustainable town along the Illinois Central Railroad, and get married. Thornton is tired of standing in his twin brother's shadow and is determined to win his father's challenge. He doesn't plan on meeting a feisty young woman on his way west, though.
This book was sent to Compass Book Ratings for review by Bethany House Publishers
With You Always
by Jody Hedlund
Overall Review:
Jody Hedlund opens up her Orphan Train series with the book With You Always. This piece of historical fiction takes place in the late 1850s. The descriptions of the deplorable conditions found in New York City and other places in America are sad, but accurate. Hedlund draws attention to the difficulties and realities of this period of American history.
The story follows Elise Neumann and her family as they make their way in America. Elise's spirit and tenacity are endearing, but also heart breaking as one considers all she had endured and experienced. Her friend Reinhold is an interesting character as well. It would be nice to see him in future books in the series.
Thornton Quincy is the main male character. He is portrayed as the stereotypical wealthy man who does not really understand the conditions of his employees. His relationship with Elise brings a new perspective to him and ultimately to his life choices. The romance that develops between Elise and Thornton is a focal point of this novel.
History is always interesting, because it cannot be changed and learning about it in fiction form brings new perspectives. Enjoy learning more about harsh realities of the sweat shop workers, but also finding beauty amongst the difficulties. Hopefully subsequent books will tell the stories of some of the characters introduced in this novel as their adventures seem incomplete.
Content Analysis:
Profanity/Language: None
Violence/Gore: Two-page scene in which there are gangs fighting, shots are fired, windows are broken and people are brawling in the streets; character is locked up; a character has bruises and marks on her as an assumed result of her boss abusing her; a woman is found bleeding and it is implied that she was raped.
Sex/Nudity: Many mentions of women turning to prostitution out of desperation; a woman is called a whore several times by someone; a woman thinks of being married to someone and sleeping in the same bed with him; a woman is reported to have been raped; non-married characters kiss and hold hands.
Mature Subject Matter:
Death of parents, abuse, gender equality, prostitution.
Alcohol / Drug Use:
Opium is administered by a doctor for pain relief.
Reviewed By Susan