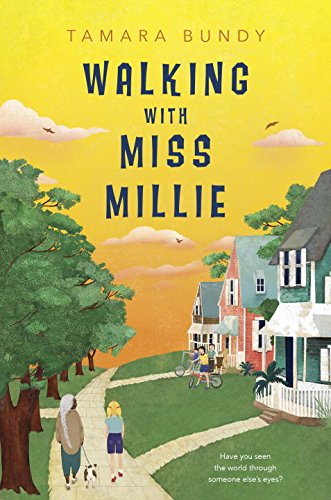 Publisher's Note:
A poignant middle grade debut about the friendship between a white girl and an elderly black woman in the 1960s South

Alice is angry at having to move to Rainbow, Georgia—a too small, too hot, dried-up place she's sure will never feel like home. Then she gets put in charge of walking her elderly neighbor's dog. But Clarence won't budge without Miss Millie, so Alice and Miss Millie walk him together.

Strolling with Clarence and Miss Millie quickly becomes the highlight of Alice's day and opens her eyes to all sorts of new things to marvel over. During their walks, they meet a mix of people, and Alice sees that although there are some bullies and phonies, there are plenty of kind folks, too. Miss Millie shares her family's story with Alice, showing her the painful impact segregation has had on their town. And with Miss Millie, Alice is finally able to express her own heartache over why her family had to move there in the first place.
This book was sent to Compass Book Ratings for review by Nancy Paulsen Books
Walking with Miss Millie
by Tamara Bundy
Overall Review:
Sometimes the best way to deal with your own problems is to walk in someone else's shoes and see the world through their eyes. Walking With Miss Millie by Tamara Bundy illustrates this perfectly as young Alice has her life completely altered, yet she is thrown in the path of elderly Miss Millie. As Alice is consumed with the life she left behind and the fact that her father just up and left her and her mom and brother, she learns some valuable lessons from Miss Millie and all that she has endured in her 90+ years all while "helping" to walk Miss Millie's dog. Miss Millie has seen a lot her life, from loss of loved ones to dealing with racism and segregation in the South leading up to the 1960's. And by listening to all of this, Alice realizes that her problems, while not going away, can be managed.
While Walking With Miss Millie has so bits of wisdom and life lessons to be gleaned from it, it also is beautifully written in a way that draws one in and gives the reader the feeling they are walking along with Alice and Miss Millie. As Alice learns first hand from Miss Millie what it was like to live through times of segregation and racism, the reader also gets to feel what it was like, uniting readers across the ages. What better unifier is there than the lesson of friendship reaching across race, age and where we are from? One of the most valuable lessons anyone could learn and one that Walking With Miss Millie illustrates beautifully.
Content Analysis:
Profanity/Language: 4 religious exclamations.
Violence/Gore: Character runs bike into back of someone's leg in anger; mention of Black people having been shot for the color of their skin; second-hand account of someone's loved one, as well as 25 others, being killed as they marched for the color of their skin; account of child dying because of being denied services from a hospital because of the color of the child's skin; mention of someone's father being harsh with a child (no details given, but alluded to the fact that he is abusive).
Sex/Nudity: None
Mature Subject Matter:
Divorce, racism, child abuse.
Alcohol / Drug Use:
None
Reviewed By Sally