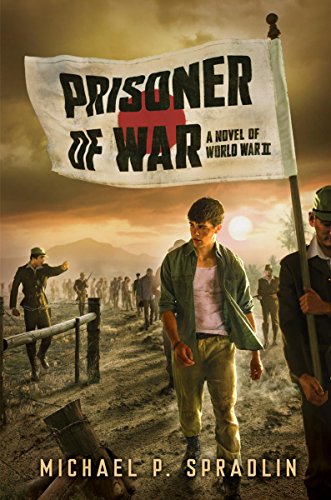 Publisher's Note:
Survive the war. Outlast the enemy. Stay alive.

That's what Henry Forrest has to do. When he lies about his age to join the Marines, Henry never imagines he'll face anything worse than his own father's cruelty. But his unit is shipped off to the Philippines, where the heat is unbearable, the conditions are brutal, and Henry's dreams of careless adventuring are completely dashed.

Then the Japanese invade the islands, and US forces there surrender. As a prisoner of war, Henry faces one horror after another. Yet among his fellow captives, he finds kindness, respect, even brotherhood. A glimmer of light in the darkness. And he'll need to hold tight to the hope they offer if he wants to win the fight for his country, his freedom . . . and his life.

Michael P. Spradlin's latest novel tenderly explores the harsh realities of the Bataan Death March and captivity on the Pacific front during World War II.
This book was sent to Compass Book Ratings for review by Scholastic
Prisoner of War
by Michael P. Spradlin
Overall Review:
Struggling with a personal war at home, 15-year-old Henry Forest lies and joins the Marines in an attempt to escape a very difficult situation. He nearly gets sent home when his secret is discovered but a twist of fate keeps him in the field and he soon wishes he could turn back time.
Prisoner of War is absolutely fantastic for so many reasons. With it being a book about military men, one might expect it to be extremely violent and full of colorful language, as are many similar books. However, the author, Michael P. Spradlin, breaks from what might be considered the norm. Obviously, because it is a war story, there has to be violence but Spradlin manages to get the point across without making it impossible to read. Based on firsthand accounts of those who lived it, the U.S. military characters he created are strong, brave, and inspiring. Spradlin's writing is so emotional and the way he portrays the heroes, enemies, and their experiences feel very realistic. This book provides a great opportunity to introduce 12+-year-olds to what occurred to some of the prisoners of war during World War II.
Content Analysis:
Profanity/Language: 1 religious exclamation.
Violence/Gore: Many (70) brief incidents including character thinks another will kill or beat him; character is afraid another is dead; character wishes he was dead; joking verbal threats; character could get killed; similes used that compare pain to something even more painful; character will die if something occurs; verbal threats; reference to mother dying; second-hand report of father beating child; references to war; second-hand reports of characters killed while fighting war; many second-hand reports of characters getting severely beat while prisoners; reference to characters dying from diseases and starvation; character picked up by neck and verbally threatened; fighting and punching; many incidents of prisoners being beaten badly; character getting tortured and having stones thrown at him; character hit with shrapnel; character gets burned by sparks; characters getting bombed; soldiers attacked, many killed; men beat and killed; man decapitated; many killed during bombings. Two extended incidents of characters fighting during war and many dying.
Sex/Nudity: Two brief incidents including characters talking about kissing and character using a metaphor of getting "caught with pants down" in reference to being unprepared.
Mature Subject Matter:
Murder, death, war, child abuse, starvation, extreme beatings.
Alcohol / Drug Use:
Adult character drinks alcohol; adults smoke and trade cigarettes.
Reviewed By Jenny