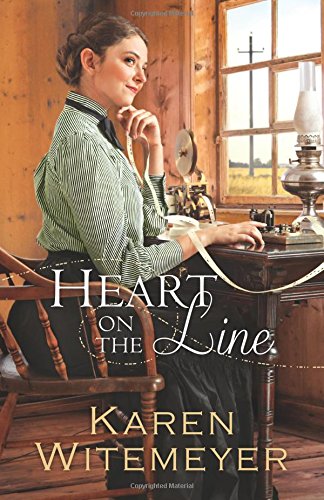 Publisher's Note:
Witemeyer Returns with Her Trademark Blend of Adventure, Romance, and Humor

Grace Mallory is tired of running, of hiding. But when an old friend sends an after-hours telegraph transmission warning Grace that the man who has hunted her for nearly a year has discovered her location, she fears she has no choice. She can't let the villain she believes responsible for her father's death release his wrath in Harper's Station, the town that has sheltered her and blessed her with the dearest friends she's ever known.

Amos Bledsoe prefers bicycles to horses and private conversations over the telegraph wire to social gatherings with young ladies who see him as nothing more than an oddity. His telegraph companion, the mysterious Miss G, listens eagerly to his ramblings every night and delights him with tales all her own. For months, their friendship--dare he believe, courtship?--has fed his hope that he has finally found the woman God intended for him. Yet when he takes the next step to meet her in person, he discovers her life is in peril, and Amos must decide if he can shed the cocoon of his quiet nature to become the hero Grace requires.
This book was sent to Compass Book Ratings for review by Bethany House Publishers
Heart on the Line
by Karen Witemeyer
Overall Review:
Heart on the Line by Karen Witmeyer is part of the Ladies of Harper's Station series. Although it would give some background on many of the characters, it is not necessary to have read previous books in the series to enjoy this story. This historical novel takes place in the late 1890s.
The main premise of the story involves murder and inheritance forgery, but the sweetness lies in the relationships of the characters. Grace Mallory the female protagonist lives in a town of mostly women. She has close friends who love and protect her. Their trust in her judgement is very inspiring.
Grace has formed a relationship through the telegraph wire with a man she has never met. When the man, whose name is Amos Bledsoe, shows up to make sure she is okay, their relationship begins to blossom. This relationship is sweet and heartwarming especially for those who might term themselves hopeless romantics.
There are several subplots that make this story interesting, and it is not merely a romance novel. The story includes murders and other dangerous events to keep readers on their toes. Much of the plot surrounding these murders is predictable, but romantics will enjoy the development of relationships.
Content Analysis:
Profanity/Language: None
Violence/Gore: Multiple mentions of people being fatally shot and bleeding from the wounds; report of a woman's purse strap being cut; recollection of an adult being struck by a parent when she was a child; report that a man physically abused his wife and it ultimately led to her death; report of a man falling off a horse and dying; report that a man drowned a puppy; a man grabs a woman and drags her away; a man strikes a woman; a woman is tied up; a man draws blood from another person with a knife.
Sex/Nudity: Non-married characters kiss, hold hands and embrace.
Mature Subject Matter:
Murder, death of a parent, domestic abuse.
Alcohol / Drug Use:
Report that an adult was drunk and fell off of a horse.
Reviewed By Susan