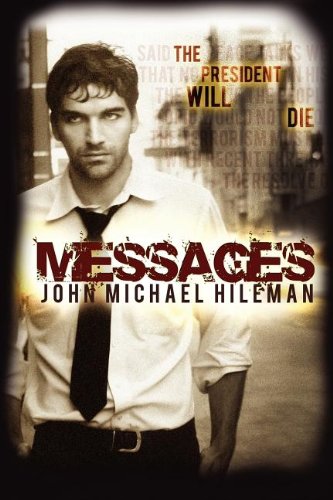 Publisher's Note:
Words are everywhere-- on labels, magazines, sign posts, t-shirts-- everywhere. And as much as David Chance would like to hide from them, he can't. Words keep leaping off objects around him, forming messages in his mind. But how is this possible? Has his brain suddenly taken an evolutionary leap forward, or are the mysterious messages proof of divine intervention? Does God really exist? Driven to answer a question he'd long ago abandoned, and stalked by the killer he's trying to stop, David risks everything to follow the messages to a dirty bomb set to go off in the heart of Boston. But can he trust the author of the messages to protect him from a terrorist who seems to know his every move.
Messages
by John Michael Hileman
Overall Review:
Messages has a brilliant and original story line of good versus evil. The main character, David, has been given special skills that he would rather have been given to anybody else. As he fights these new abilities, he has a continual internal debate of figuring out if God is real or not. This suspenseful page turner has deep characters that are well-developed with the power to create hope and fear. The pacing is fast and the unpredictable plot twists kept me eager to read every page. With a high stakes game of cat and mouse ensuing, malicious men in the form of terrorists are trying to overcome the forces of right who fight back with firm persistence. The author has written six books and there are three in this David Chance series.
Content Analysis:
Profanity/Language: None
Violence/Gore: Vehicle accident with death, no gory details; soldier killed in combat, family receives news; character has heart attack but survives, hospital stay; woman fantasizes about stabbing a man repeatedly with a pencil; family threatened by terrorists; character shot dead by terrorists; character taken hostage by terrorists, held captive; character shot at by sniper; character shot in arm, lots of blood, transfusion, ambulance; bomb under playground equipment with 10-year-old boy on top; character knocked out by blow dart and taken hostage; character purposefully stabbed several times to death, blood, screams; family taken hostage; man held at gun point, threatened, knocked out; character beat up; character shot with gun & killed.
Sex/Nudity: None
Mature Subject Matter:
War, murder, fear of Muslims, Muslim terrorists, terrorism, traitor, family taken hostage at gun point, guns, bombs, nuclear dirty bombs, Oklahoma bombing, kidnapping, hostages.
Alcohol / Drug Use:
Drugs used to subdue a man being held hostage; blow dart with drugs used to knock out and abduct a man.
Reviewed By Beth