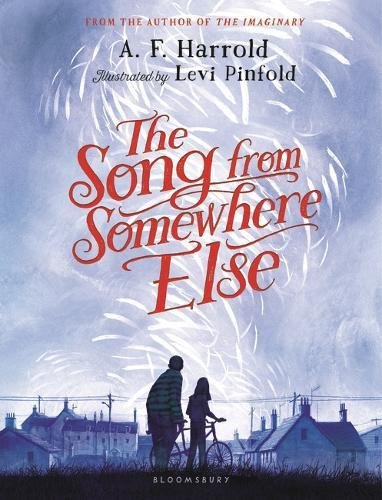 Publisher's Note:
Frank thought her summer couldn't get any worse--until big, weird, smelly Nick Underbridge rescues her from a bully, and she winds up at his house.
Frank quickly realizes there's more to Nick than meets the eye. When she's at his house, she hears the strangest, most beautiful music, music which leads her to a mysterious, hidden door. Beyond the door are amazing creatures that she never even dreamed could be real. For the first time in forever, Frank feels happy . . . and she and Nick start to become friends.
But Nick's incredible secrets are also accompanied by great danger. Frank must figure out how to help her new friend, the same way that he has helped her.
This book was sent to Compass Book Ratings for review by Bloomsbury USA
The Song From Somewhere Else
by A. F. Harrold
Overall Review:
Frank has never taken much notice of Nick Underbridge. She hasn't ever made fun of him, like everyone else in her class, but she's been careful to never be friendly either. Then one day, after he rescues her from the school bully, she winds up at his house and discovers things she never could have imagined.
The Song From Somewhere Else by A.F. Harrold is a lovely tale that is not so much a coming of age as it is a coming into one's own self. Our lead character Francesca (Frank) has never taken a stand for anything, including herself. When she finds herself the only one standing between the world and a dark force intent on destroying it, she must finally find out what she's made of. Nick is the opposite of Frank in almost every way. A social outcast--and not really concerned about that fact--he knows who he is. The contrast of the characters, as well as Harrold's humorous use of inner dialogue between Frank and her stomach, illustrate a beautifully deliberate growing of Frank's character.
Complete with lovely illustrations (by the very talented Levi Pinfold) incorporated throughout the book, The Song From Somewhere Else is a delightful, quick read that will engage its readers from start to finish.
Review of an Advance Reader Copy
Content Analysis:
Profanity/Language: 8 religious exclamations.
Violence/Gore: Boys tease girl that her cat is dead; character makes up brief stories about pirates involving death; character sees a troll; boy kicks ball at girl; boy hits girl's bike with a ball, causing a crash; character skins knee; boys get in a shoving match; boys strong-arm girl; boy threatens girl; character attacked by monster; small child gets toy stuck up nose; woman warns character of danger; character warned boy could die; character falls on stairs; children battle a monster; character is bullied; character gets scratches on her legs.
Sex/Nudity: None
Mature Subject Matter:
Bullying, supernatural activities.
Alcohol / Drug Use:
None
Reviewed By Amberle