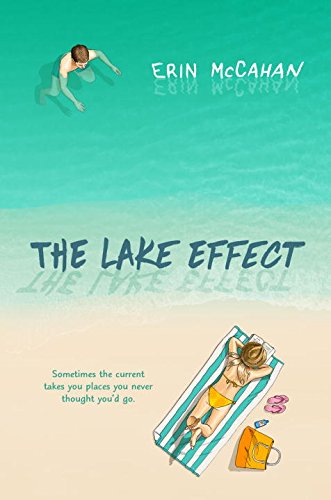 Publisher's Note:
A funny, bracing, poignant YA romance and coming-of-age for fans of Huntley Fitzpatrick, Me and Earl and the Dying Girl, and The Beginning of Everything

lake effect | n.
1. The effect of any lake, especially the Great Lakes, in modifying the weather in nearby areas
2. The effect of elderly ladies, mysterious girls, and countless funerals, in upending your life, one summer at the beach

It's the summer after senior year, and Briggs Henry is out the door. He's leaving behind his ex-girlfriend and his parents' money troubles for Lake Michigan and its miles of sandy beaches, working a summer job as a personal assistant, and living in a gorgeous Victorian on the shore. It's the kind of house Briggs plans to buy his parents one day when he's a multi-millionaire. But then he gets there. And his eighty-four-year-old boss tells him to put on a suit for her funeral.

So begins a summer of social gaffes, stomach cramps, fraught beach volleyball games, moonlit epiphanies, and a drawer full of funeral programs. Add to this Abigail, the mystifying girl next door on whom Briggs's charms just won't work, and "the lake effect" is taking on a whole new meaning.

Smart, funny, and honest, The Lake Effect is about realizing that playing along is playing it safe, and that you can only become who you truly are if you're willing to take the risk.
This book was sent to Compass Book Ratings for review by Dial Books for Young Readers
The Lake Effect
by Erin McCahan
Overall Review:
The Lake Effect by Erin McCahan is that perfect summer read that you have been looking for: a little bit funny, a little bit serious, and a whole lot of wonderful.
Briggs Henry is your average over-achiever high school senior--class president, good grades, decent athlete, kind to old folks and kids alike. Abigail is your not-so-average high school senior--diagnosed with a chronic, serious illness and having to face the changes that it requires for her future.
When they end up as next-door neighbors due to Brigg's summer job, a fledgling romance develops. Abigail must learn that serious change doesn't always equate to bad. Briggs learns that working for a quirky elderly lady can be more rewarding then he ever thought.
Filled with a cast of characters that are memorable--such as Mrs. B, a quirky octogenarian who attends random funerals as a way to plan her own; a Hollywood hopeful gone too soon; and friends whose names are impossible to pronounce-this book will keep you turning page after page. The chapters are short, the narrative interesting, and the plot one that everyone can relate to.
Grab a beach chair, a cold drink and The Lake Effect and wile away the afternoon reading a book that will leave you smiling.
Review of an Advance Reading Copy
Content Analysis:
Profanity/Language: 20 religious exclamations; 36 mild obscenities; 11 derogatory names; 25 scatological words; 5 anatomical terms; 1 offensive hand gesture.
Violence/Gore: Playful slap to shoulder; sprained ankle; report of man killed in boating accident; discussion of gastrointestinal surgery (no graphic detail).
Sex/Nudity: Reference to masturbation; kissing (four times), hands on hips/back while kissing; hands under shirt on back and bra straps; hand-holding (twice); hugging.
Mature Subject Matter:
Death of family members and unrelated persons, divorce/separation, bankruptcy/financial troubles.
Alcohol / Drug Use:
Underage drinking of beer' report of alcohol being partial cause of accident.
Reviewed By Beckie