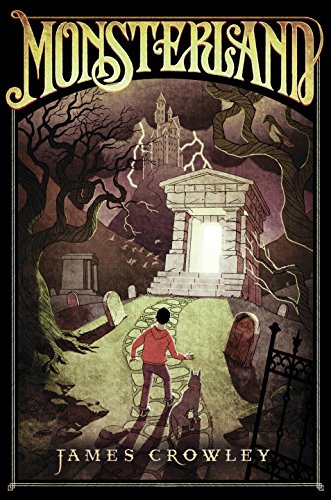 Publisher's Note:
A boy takes off on a once-in-a-lifetime adventure through a mysterious land, with the help of some monster friends

It's Halloween, and everyone in Charlie's small town is excited for this year's festivities. Charlie's grandfather, Old Joe, is famous for his holiday haunts, and his pumpkin patch is the center of the town's zealous celebrations. But for Charlie, Halloween's just one more reminder that his cousin Billy isn't around anymore. Charlie plans to keep to himself this year, hanging out in the haunted barn with his trusty dog Ringo.

But when Charlie runs into some neighborhood bullies who are after his candy, he heads off into the woods to escape. He quickly gets lost, but spots a kid who he thinks is Billy. As Charlie chases after him deeper and deeper into the woods, he finds himself entering Monsterland—a mysterious place where werewolves live amongst trolls and goblins. Here he meets the Prime Minister, a vampire who tells Charlie he may be able to see his cousin again in this strange new land. Accompanied by a hulking monster chaperone, Charlie's determined to find out just what happened to his cousin, and sets off to explore the secrets hiding in this uncharted territory.
This book was sent to Compass Book Ratings for review by G.P. Putnam's Sons Books for Young Readers
Monsterland
by James Crowley
Overall Review:
Monsterland by James Crowley tells the story of Charlie Cooper, a young boy suffering from nightmares and guilt after his cousin, Billy, went swimming late October and never came back. Charlie is convinced Billy is somewhere out there, waiting to be found, and when he gets the opportunity to look for him, Charlie takes it.
I was really excited about this book. The blurb sounded so promising - a boy goes missing Halloween night while trying to find out what happened to his cousin, and ends up in this place populated by monsters. It sounded like it was going to be the coolest adventure/quest/mystery story ever!
So, I did end up being a little disappointed. I couldn't connect to any of the characters. I don't really know why. They all felt very distant, more like caricatures rather than actual characters. I was continually frustrated by the main character, Charlie Cooper, who kept being told NOT to do things and who invariably did the thing anyway. I think it was meant to show Charlie facing his fears and trying to do the right thing, but just once it would have been nice to see him actually listening to the person in charge and staying back instead of leaping into whatever fray was available. I didn't really mind Franklin Prometheus, the Monster of all Monsters who acts as Charlie's guide on his quest to find out what happened to his cousin, Billy. I also didn't mind Abigail Rose, a strange ghostly little girl who joins their team during their journey. This is an advance uncorrected copy of the book, so maybe the published version will be slightly tighter. But overall, the story felt like it took a long time to get to the climax.
That being said, it did contain a lot of really exciting moments and some clever society types, as well as interesting side characters that brought a little zest to the tale. It would be a good story for young teens interested in all sorts of ghoulish tales, especially those with a penchant for vampires, ghosts, and Frankenstein's Monster.
Review of an Advance Uncorrected Galley
Content Analysis:
Profanity/Language: 2 mild obscenities.
Violence/Gore: A boy is cornered and beaten up by three male teens (not graphic); a character hits his head on a rock; a character suffers from nightmares; a character pursues a shadowy figure and gets lost; secondhand reports of war/impending war; a character has occasional memories of someone not surfacing after diving into a river; characters have run-ins with various types of monsters, both good and bad; characters are sometimes threatened by others, either verbally or with weapons; characters discuss ghost story origins; characters are ambushed and taken captive; a character is described as being stitched from many different parts, with occasional repairs done on torn seams; a character see monsters devour an elk; characters occasionally sustain wounds; a character falls down a cliff into a body of water; in an extended scene, a character sees an adult male approach a chained female character with a stick, and upon freeing the girl the two of them are pursued but eventually fight their way to freedom while sustaining some injuries; a character almost drowns; characters argue and fight over diplomatic negotiations; during a sandstorm, marauders attack a city; characters are kidnapped; an adult character slashes a younger character with a knife, inflicting a wound on his forearm; characters kill and eat a mule; a character gets lost in a desert; a character is reported to be in critical condition due to injuries; some characters die; an adult character gets angry with a boy and accidentally hurts him; in an extended scene, character are cornered by monsters and attempt to flee while another character holds off the monsters and is viciously attacked and wounded by various weapons and claws; characters stitch up a character's wounds; a character relates how he and his girlfriend were attacked and left for dead; characters bury a body; reports of implied skirmishes during a return journey.
Sex/Nudity: A character sees a painting of a man and a woman; a female character hugs a male character; a female character kisses a male character on both cheeks; a young male character watches the way a young female character walks; a character recalls losing his true love.
Mature Subject Matter:
Death of a family member, trauma, slave trading, threat of war, robbery/thieving, life or death situations, battles.
Alcohol / Drug Use:
A character has tests done at a hospital.
Reviewed By Katrina