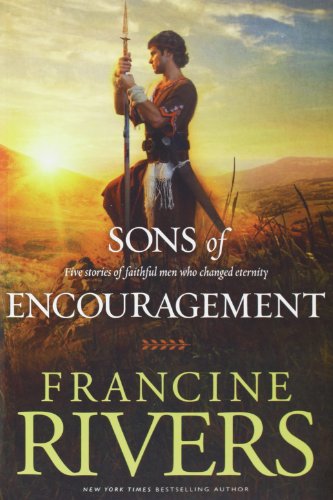 Publisher's Note:
In this five-book compilation of the Sons of Encouragement series, New York Times best-selling author Francine Rivers illuminates the lives of five Biblical men who stood behind the heroes of the faith and quietly changed eternity. Aaron, Caleb, Jonathan, Amos, and Silas each faithfully sought after God in the shadows of His chosen leaders. They answered God's call to serve without recognition or fame. And they gave everything, knowing their reward might not come until the next life.
Sons of Encouragement
by Francine Rivers
Overall Review:
Sons of Encouragement is a compilation of five novellas 'about biblical men of faith who served in the shadows of others': Aaron, the priest; Caleb, the warrior; Jonathan, the prince; Amos, the prophet; and, Silas, the scribe. Just like in her Lineage of Grace series about biblical women, Francine Rivers writes fictionalized accounts of the lives of these five biblical characters in a way that makes their stories come alive differently.
Rivers depicts these men as regular people with flaws and struggles, that seek to love and serve God nonetheless. They also support greater biblical characters without seeking glory for themselves. Despite bad temper, impatience, and the hatred and distrust they have to contend with, they find ways to obey and love God and others, and are thus relatable and inspiring.
There are brief study sections at the end of each novella with scriptural references for further study on each of the men. These sections are thought-provoking and help the reader to take away valuable lessons from the book. With these additional resources, Sons of Encouragement serves as a source of spiritual nourishment and not just entertainment.
While it is not quite as engaging as A Lineage of Grace, this book is very enlightening. It has a central theme of obedience and love for God that challenges the reader to deepen his/her relationship with God and others.
Content Analysis:
Profanity/Language: None
Violence/Gore: Many brief mentions and secondhand accounts of people's natural deaths and murders; characters get into several physical fights; an animal swallows others of its kind; several plagues cause destruction, hardship, illness and death of animals and humans; horses trample men; many people drown; several battles occur; mutilation of body parts in a few scenes; animals are slaughtered; characters are burnt to death; a character is stoned to death; a hailstorm frightens people; report of people sacrificing their children to gods in fire; warring armies kill, plunder, destroy towns and take captives in several non-explicit scenes; a character is bitten by a snake; a few extended scenes of violent battle; death threats; threat of bodily mutilation; animals are dismembered; a few scenes and a secondhand account of attempted murder; a man hits a woman; a character gets crippled from a fall; a character kills animals; an animal dies; a character wounds an animal; a character fights with an animal; a character sees a few frightening visions of death and destruction; a character is stoned to death; a building collapses and kills people; characters are beaten, dragged and stoned in a few scenes; characters are persecuted and killed for their beliefs; characters are severely flogged in a few scenes; a woman is almost stoned; characters are robbed and kidnapped.
Sex/Nudity: It is implied that characters flirt while drunk; characters strip for a ritual cleansing in a non-detailed scene; characters kiss and sleep together in a non-detailed scene; characters cuddle; a character propositions another; reports of sexual activity; public sexual activity in two non-detailed scenes; 2 non-explicit scenes of male circumcision; a character caresses another's cheek; a character makes a vague bedroom joke; a character kisses another's cheek; it is implied that two characters take women as concubines; characters kiss and embrace; a prostitute propositions a character and asks if he would prefer a boy; mention of father and son sleeping with the same prostitute; characters are stranded naked after a violent incident; a character jokes about another needing to visit a brothel; slaves are displayed naked; characters kiss; references to homosexuality.
Mature Subject Matter:
Slavery, pagan sacrifices, war, natural deaths, persecution.
Alcohol / Drug Use:
Characters drink and/or get drunk in a few scenes.
Reviewed By Olamide