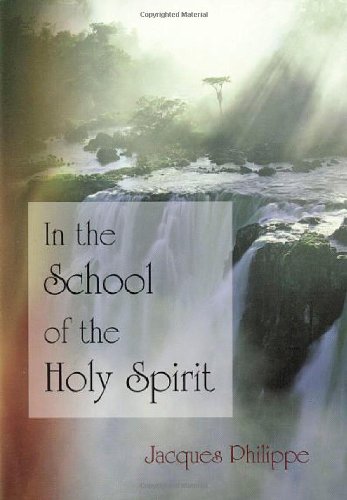 Publisher's Note:
In the prayers lives of many Christians there is one person of the Trinity that often goes overlooked - The Holy Spirit. The Holy Spirit is no less involved in our lives than the Father and the Son, yet many are unaware of this. Jesus said about the Holy Spirit, "If I go, I will send you another Comforter." But are we aware of the Holy Spirit in our lives? In the School of the Holy Spirit by renowned retreat master Jacques Philippe will help. It will lead you to be more attentive to the movements of the Holy Spirit in your life as you learn to value the third person of the Trinity as the Sanctifier of your soul. Philippe explains the rewards of being attentive to the Holy Spirit and provides simple and concrete ways to grow in this inner sensitivity. In his clear and simple style, he illustrates his points with many examples from modern life. Here then is a valuable aid in your own spiritual journey.
In the School of the Holy Spirit
by Jacques Philippe
Overall Review:
In his usual simple and piercing style, Jacques Philippe demystifies the Holy Spirit in this beautiful book. In the School of the Holy Spirit is an exceptional aid for any Christian who wants to understand the Holy Spirit better. It presents simple principles, relatable examples, and practical tips that make it so easy to read and understand. It helps to understand better the stirrings in the heart, guides on how to respond to them, and teaches how to abandon oneself to the leadership of the Holy Spirit.
Oftentimes our struggles in making decisions take our peace away. Fr. Philippe offers a simple way out of this and into a peace that lasts. He teaches with the words of St. Faustina that 'the shortest way to holiness is faithfulness to the inspirations of the Holy Spirit' and he buttresses his ideas with scriptural references and writings of saints in a wonderful way that will leave any reader highlighting a lot. As with his other books, In the School of the Holy Spirit should be read slowly and meditatively for best results. It is a short, simple, useful and excellent read.
Content Analysis:
Profanity/Language: None
Violence/Gore: None
Sex/Nudity: None
Mature Subject Matter:
None
Alcohol / Drug Use:
None
Reviewed By Olamide