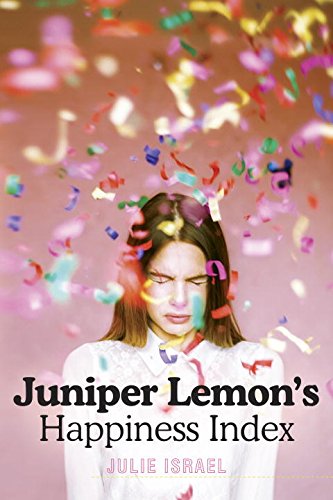 Publisher's Note:
Funny, warm, and moving, Juniper Lemon's Happiness Index is a contemporary YA novel about loss, how deeply we can know others, and making our own happiness; perfect for fans of Sara Zarr and Jandy Nelson's The Sky Is Everywhere.

Sixty-five days after the death of her older sister, sixteen-year-old Juniper Lemon discovers the break-up letter addressed to "You" Camilla wrote the day she died. Juni is shocked—she knew nothing of this You, and now the gaping hole in her life that was her sister feels that much bigger. She's determined to uncover the identity of You and deliver the letter. Maybe that would help fill the hole, even if only a bit.

But what Juniper doesn't expect is that in searching for You she will unearth other notes and secrets—and that may be just what she needs to sort out her own mess.
This book was sent to Compass Book Ratings for review by Kathy Dawson Books
Juniper Lemon's Happiness Index
by Julie Israel
Overall Review:
Juniper Lemon's Happiness Index is a story about the lives of high school students and all the usual things that come with them: drama, relationships, emotional roller coasters, etc. However, author Julie Israel puts a little twist in the typical plot. Juniper tends to focus on the negative things in her life, so in order to help her get over this, her older sister makes a bet with her. After losing the bet, Juniper has to write the good things that happen to her each day on an index card. Shortly after the bet, Juniper's sister tragically dies in a car accident. She continues with the index cards but to keep things real, she also includes the negative things that occur (think of it as a condensed journal). Not only is she having to deal with life as a teenager, now she's struggling with the loss of her sister as the story takes us on Juniper's journey through the bereavement process. We also get to see into the lives of her friends who are dealing with their own demons, and it's great to see how supportive they are of each other. As expected there's a high school bully and this one really aims high in the jerk department. You'll love how she's dealt with and how the characters help each other out in the process. This is a very relatable story for a broad audience; anyone who has or is attending high school. If you enjoyed Speak of Me As I Am, you'll likely enjoy this story as they're both about teenagers dealing with the loss of a loved one.
Review of an Advanced Reader's Copy
Content Analysis:
Profanity/Language: 38 religious exclamations; 4 mild obscenities; 2 religious profanities; 7 derogatory names; 29 scatological words; 7 anatomical terms; 28 f-word derivatives.
Note: Religious exclamations include some unconventional instances that would be extremely offensive to Christians.
Violence/Gore: Several (12) brief incidents including character uses metaphor of feeling like knives are in throat; playful punch; simile used - like a shark out for blood; play shoving & wrestling; verbal threat; second-hand report that character dies in car accident and another character involved has flashbacks; character finds note that character is contemplating suicide; character jokes about getting in fight but says he actually received injuries from falling; character receives bruises from father hitting him; character punches another; character damages property.
Sex/Nudity: Many (28) brief incidents including reference to people making out; characters prank call and flirt with someone; character writes a love poem; holding hands; touching face; kissing; cuddling; references to having sex; reference to STDs; reference to male genitalia; a few references to homosexual characters; reference to breasts; innuendo; reference to "sex haven"; character calls another "sexy"; second-hand report implied attempted rape; touching waist, face & back; kissing neck; rubbing back.
Mature Subject Matter:
Homosexuality, child abuse (second-hand), underage drinking and smoking.
Alcohol / Drug Use:
Underage drinking at parties; underage smoking cigarettes; smoking weed; character's father is drunk (and drives); adult character drinks wine.
Reviewed By Jenny