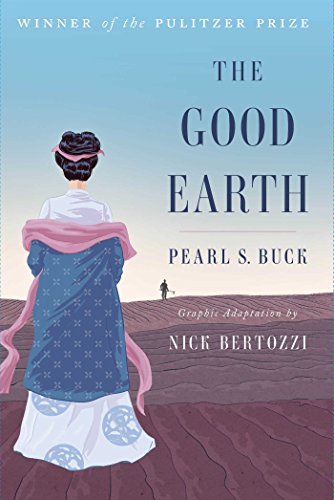 Publisher's Note:
Pearl Buck's 1931 Pulitzer Prize–winning classic about the rise and fall of Chinese villagers before World War I comes to life in this evocative graphic novel by New York Times bestselling author Nick Bertozzi.

In The Good Earth, Pearl S. Buck paints an indelible portrait of China in the 1920s, when the last emperor reigned and the vast political and social upheavals of the twentieth century were but distant rumblings. This moving story of the honest farmer Wang Lung and his selfless wife O-Lan is must reading to fully appreciate the sweeping changes that have occurred in the lives of the Chinese people during the last century. Though more than eighty years have passed since this remarkable novel won the Pulitzer Prize, it has retained its popularity and become one of the great modern classics in American literature.

Now New York Times bestselling author Nick Bertozzi brings Buck's timeless, epic novel to life with incredible imagery in this vivid graphic novel. Through his Eisner Award-winning talents, Bertozzi retraces the whole cycle of life depicted in the unforgettable original: its terrors, its passions, its ambitions, and its rewards. Buck's brilliant novel—beloved by millions of readers—is a universal tale of an ordinary family caught in the tide of history, now accompanied by beautiful, evocative images.
This book was sent to Compass Book Ratings for review by Simon and Schuster
The Good Earth: The Graphic Novel
by Nick Bertozzi
Overall Review:
Pearl S. Buck's classic novel is brought to life through Nick Bertozzi's brilliant artwork. The characters' triumphs and struggles are shown in poignant, three-color, pen-and-ink illustrations that deftly illuminate the rags to riches story of Wang Lung and his family at the time of the Chinese Revolution.
While the abridged story is not as richly told as Buck's original, it serves as an elegant appetizer--readers who feel intimidated by classic literature will certainly come away with an excellent overview of the story and its many intricate plot elements as well as a sense of the time and culture. Bertozzi accomplishes this by accompanying his artwork with as much original text as possible, and neatly inserts his own text as a bridge between major plot points. Readers will enjoy the visual images that accompany this beautiful story and will hopefully be led to the novel from this positive experience.
Content Analysis:
Profanity/Language: 5 derogatory names; 1 anatomical term. (Note: Two of the language terms are used in connection with animals and farming.)
Violence/Gore: A character gives birth--blood is mentioned (2 times); a character is slapped across the face (4 times); an animal is known to have been slaughtered for food--the knife is seen with blood on it; a child is born and dies immediately--it is assumed that it has been killed, but this is unclear; a picture of a dead person is discussed, then shown--the person is lying in a pool of blood (unclear); a character talks about being beaten; a person is reported to have been hung; a child is seen being beaten with a fan by an adult; a character beats another character (2 times--no injuries); a character is threatened with violence (3 times); a character is beaten to death; a character beats his own head against a wall; characters discuss a brutal murder.
Sex/Nudity: A character is seen naked from behind while bathing; two characters are seen in bed together--it is assumed that sexual activity takes place (5 times); a child is seen naked from behind; breastfeeding is discussed (2 times); a concubine is mentioned with the implication that sexual activity is taking place (3 times); a character talks about being taken to a man's bed; a character is seen bathing--private areas are hidden; a naked character is seen getting out of bed with another person--private areas are hidden; characters are seen embracing; a character is sexually aroused (euphemistic language); characters are seen embracing naked in bed together (side-by-side, from behind); sexual innuendo.
Mature Subject Matter:
War, starvation, poverty, thievery, polygamy, slavery, physical abuse, opium addiction.
Alcohol / Drug Use:
Alcohol consumed socially by adults; opium use by adults (addiction is discussed).
Reviewed By Leslie