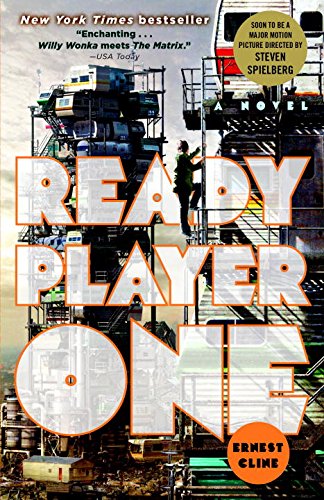 Publisher's Note:
In the year 2044, reality is an ugly place. The only time teenage Wade Watts really feels alive is when he's jacked into the virtual utopia known as the OASIS. Wade's devoted his life to studying the puzzles hidden within this world's digital confines--puzzles that are based on their creator's obsession with the pop culture of decades past and that promise massive power and fortune to whoever can unlock them.
But when Wade stumbles upon the first clue, he finds himself beset by players willing to kill to take this ultimate prize. The race is on, and if Wade's going to survive, he'll have to win--and confront the real world he's always been so desperate to escape.
Ready Player One
by Ernest Cline
Overall Review:
Aptly coined, "Willy Wonka meets The Matrix," author Ernest Cline takes gaming to a whole new level in Ready Player One.
A book that is a rarity--with the integration of science fiction, dystopian elements, historical/pop culture, action adventure, mystery, and to top it off…romance.
It's the year 2044, and teen protagonist Wade Watts lives in poverty amidst a disarrayed government. Wade can only find solace and feel himself within the virtual world of OASIS. In this simulated computer reality Wade can be and do what he wants, and what he wants is to solve a complex puzzle left by the creator of OASIS that he believes could be his ticket to freedom. The only problem? He's not the only one after the prize, and the consequences could cross over the digital purview into his present existence.
It may be a slow start for some readers as they become accustomed to the author's world building as he portrays the lifestyle of the year 2044 and Wade's world, but after the customary period, readers are in for a wild ride.
Wade's experience within the digital arena is heavy on 80's references and pop culture, but his reality is futuristic. This juxtaposition is a fun thrill and will have the inner geek emerging from even the most reserved reader. Twists and turns keep the reader guessing and rooting for the underdog the whole way through.
With most of the violence being within the confines of the computer-generated reality and not being overtly obtuse it keeps the story light and not overbearing. The same cannot be said for the language (please see content review below). While I'd love recommending this to middle-grade students, the amount of language makes it more suitable for older teens and adults. Readers who were 80's kids will no doubt be in nerd heaven with all the citations from that era. No worries if you aren't as familiar with that period because there is plenty of fun to be had.
Gear up! This book is a blast from the past that shoots you straight into the future. Reading Ready Player One is a distraction from your regular life that's worth it.
Content Analysis:
Profanity/Language: 8 religious exclamations; 46 mild obscenities; 5 religious profanities; 18 derogatory names; 51 scatological words; 41 anatomical terms; 5 offensive hand gestures; 10 F-word derivatives.
Violence/Gore: Brief mention of climate change, poverty, disease, famine, and war; brief and extended scenes of video game violence (not overtly obscene) mentioned throughout book; report of character's father being killed; few jokes of violence; few instances of characters being threatened; character reports living in a dangerous neighborhood; character mentions being bullied in school; report of death; extended scene (about 2 pages) intentional bomb kills hundreds of people, including character's family; extended scene (about 1 page) character plans their suicide; extended report of murder (about 1 page); extended scene (about 1 page) character is bound, gagged, stripped, and physically removed from place of residence; character is incarcerated; character watches video of real life murder taking place; report of parent's death; character's ear bleeds after the removal of a clamp.
Sex/Nudity: Character's parents have child as teenagers; mention of character's mother working as an escort at an online brothel; brief mention of pedophiles, rape, and hermaphrodite; about 3 mentions of character having a crush; about ½ page report of boyfriend and girlfriend falling in love, moving in together, getting engaged; few uses of slang referring the male genitalia; extended flirting scene (about 2 pages); joke about pornography; extended scene (about 1 page) character declares their love to another character; extended scene (about ½ page) character describes their experience with a sex robot; extended scene (about ½ page) character admits to masturbation, states their view on the subject; mention of pornographers (2x); comment on virtual avatar being half naked; artwork of naked man; male character notices virtual female avatar's breast size; mentions of pornographic video viewing; character reveals they are a homosexual and dating; declaration of love; hug and kiss on cheek (friendly); characters hold hands and kiss.
Mature Subject Matter:
Computer hacking, corruption/illegal activities within a corporation, socioeconomic inequality, reclusiveness, addiction/ obsession.
Alcohol / Drug Use:
Report of parent being a drug addict, dying of an overdose; few drug references; report of adult drug use; mention of having and alcoholic father; comment on neighborhood being riddled with meth labs; bar in virtual club; character takes anti-anxiety medicine.
Reviewed By MaryLou