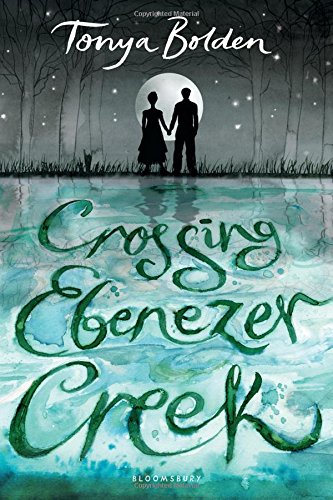 Publisher's Note:
When Mariah and her young brother Zeke are suddenly freed from slavery, they join Sherman's march through Georgia. Mariah wants to believe that the brutalities of slavery are behind them, but even as hope glimmers, there are many hardships yet to come. When she meets a free black named Caleb, Mariah dreams in a way she never dared . . . of a future worth living and the possibility of true love. But even hope comes at a cost, and as the difficult march continues toward the churning waters of Ebenezer Creek, Mariah's dreams are as vulnerable as ever.
In this powerful exploration of a little-known tragedy perfect for fans of Ruta Sepetys, readers will never forget the souls of Ebenezer Creek.
This book was sent to Compass Book Ratings for review by Bloomsbury Children's Books
Crossing Ebenezer Creek
by Tonya Bolden
Overall Review:
After researching many articles, books, and diaries, author Tonya Bolden created a moving historical fiction story that feels real from beginning to end. The lives the slaves in the story had to live were based on true stories and the things they had to endure are unthinkable. You will be astounded by the strength of so many of them, including the main character, Mariah. She is an incredible young woman who we can all learn something great from. The way the characters support and help each other is also very admirable. You'll be amazed at their endurance, both physically and emotionally, in their attempt to pursue freedom. Be prepared with a box of tissue as some of the events that occurred or are referenced to are so heart-wrenching you can barely stand to read them. I really appreciate Bolden delving into these stories to ensure that they're told to make others aware and hopefully prevent such horrific things from occurring again. Tonya Bolden tells a beautiful, yet heart-wrenching story in Crossing Ebenezer Creek.
Content Analysis:
Profanity/Language: 3 religious exclamations; 3 mild obscenities.
Violence/Gore: Many (48) brief incidents including character almost kills another; reference to death occurring under certain circumstances; character threatened with gun; second-hand report of abuse and torture to slaves by owners; reference to mentally ill character hitting others; second-hand report of deaths; reference to several cities getting destroyed; second-hand report of murder; reference to character getting run over by stage coach; second-hand reports of characters having finger cut off; second-hand report of gun threat; reference to bridge getting burned and characters can hear guns shooting; second-hand report of character drowning; reference to pregnant woman getting beat causing her death and complications for the child; characters sing song about abuse to slaves and children being stolen from parents; see character who has scabs, bruises and welts all over; reference to verbal threats; reference to babies getting heads bashed on rock until dead; reference to character getting attacked by a dog; second-hand report of character hanging himself; reference to butchers; hundreds buried in mass grave; two second-hand reports of characters getting raped and killed; mentally ill character slaps others; men fighting, receiving very minor injuries; characters get blisters and toenails rip off from so much walking; character whipped; soldiers kill many slaves.
Sex/Nudity: Several (16) brief incidents including characters cuddle; rubbing arm and shoulder; kissing cheek and hand; arm around; holding hands; reference to character having sex with many; reference to prostitute; character threatened to get hurt if she wouldn't have sex with him; character makes nasty gestures to another; two second-hand reports of rape; implied rape; characters thinking about having sex.
Mature Subject Matter:
Racism, poverty, slavery, war, abuse, reference to gambling, a few references to ghosts, murder, brief graphic report of babies being hurt and killed.
Alcohol / Drug Use:
Reference to chewing tobacco and whiskey; soldiers play drinking game; character smokes pipe; references to characters drinking.
Reviewed By Jenny