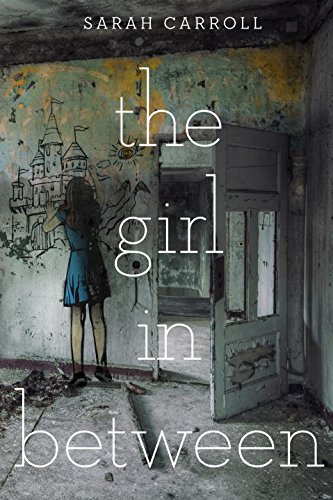 Publisher's Note:
Told in the naïve voice of a homeless girl sheltered by her mother from the world, this is a moving debut perfect for fans of David Almond, A Monster Calls, and Room.

I'm invisible. Ma says I'm supposed to be so the Authorities don't get me. She goes out into the streets almost every day but I'm not allowed. I've got to stay inside the mill so they don't see me.

In an old, abandoned mill, a girl and her ma take shelter from their memories of life on the streets, and watch the busy world go by. The girl calls it the Castle because it's the biggest place they've ever stayed, a home of her own like no other. The windows are boarded up and the floorboards are falling in, but for her neither of those things matter.

Then developers show up, and it's clear that their lives are about to change forever. Desperate to save their refuge from the Authorities and her mother from her own personal demons, the girl seeks out the ghosts of the mill. And with only Caretaker—the old man who's slept outside the mill for decades—around to answer her questions, she begins to wonder what kind of ghosts are haunting both the mill and her mother.
This book was sent to Compass Book Ratings for review by Kathy Dawson Books
The Girl In Between
by Sarah Carroll
Overall Review:
A girl and her Ma live in an abandoned mill. The day they left Gran's house Ma promised the girl that she would find them a castle to live in. To the girl that is exactly what the old building is--her castle.
Sarah Carrol's debut novel The Girl In Between is a haunting story of both hope and hopelessness. The heavy weight of family, homelessness, and substance abuse is lightened somewhat as it is viewed through the eyes of a child too young to fully comprehend the events happening around her. By having our main character and narrator known to us only as 'The Girl' Carroll has created an everyman vacuum that places the reader firmly in the position of the protagonist. Through this innocent lens readers are given the opportunity to peer into the everyday lives of many people that are so often taken for granted--as well as life on the streets. With a twist ending that leaves the reader both heartbroken and uplifted, The Girl In Between is a tale of beautiful contradictions and the strength of the human spirit.
Review of an Advance Reader Copy
Content Analysis:
Profanity/Language: 18 religious exclamations; 6 mild obscenities; 1 offensive hand gesture.
Violence/Gore: Many references to the danger of an abandoned building; several instances of a woman warning a girl of the danger of the authorities; girl knocked over by object; woman threatens to slap girl; woman trips over bicycle; girl hit by door; woman recalls acts of petty vandalism; girl falls; girl hit with shoe; boy tries to push girl in water; references to baby ducks being eaten by predators; woman throws glass at wall; a reference to a baby dying; woman slaps girl; girl attacked by man; girl falls; girl imagines machines eating buildings with people inside; girl chased by men; references to girl's death.
Sex/Nudity: References to a man kissing a woman; brief reference to a nursing mother.
Mature Subject Matter:
Homelessness, substance abuse, alcoholism.
Alcohol / Drug Use:
Many references to and scenes of adults abusing drugs and alcohol in the presence of minors.
Reviewed By Amberle