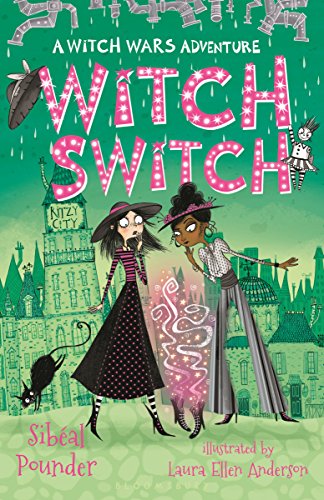 Publisher's Note:
Young witch Tiga Whicabim is just starting to settle into glitzy Ritzy City when Fran the Fabulous Fairy discovers that Tiga's best friend Peggy has gone missing--leaving behind only a note explaining that she's "AWAY WITH THE FAIRIES" and evil Felicity Bat is now in charge. Soon after, other witches across town start to disappear.
Tiga and her friends set out to investigate and stumble upon an old, unsolved mystery that might just be the reason behind the disappearances. Can the girls use their witchy skills to save their friend and the city in time?
This companion to Witch Wars is a witch story like no other, filled with silly spells, delectable dresses, and ridiculous riddles, as well as hilarious black-and-white illustrations.
This book was sent to Compass Book Ratings for review by Bloomsbury Children's Books
Witch Switch
by Sibeal Pounder
Overall Review:
Tiga Whicabim thought that after she had conceded the Witch Wars competition to her best friend Peggy she could get settled into her new life in Sinkville. She never dreamed she soon find herself standing between Peggy and a diabolical coup that threatens the lives, and fashion sense, of good witches everywhere.
The second book in A Witch Wars Adventure series by Sibeal Pounder, Witch Switch, is a fun and engaging story. Pounder's writing is fast paced and clever with characters that are lovably silly yet relatable. Despite its inhabitants being rather shallow creatures, the world the author immerses us in is full and tangible; aided by wonderfully placed illustrations throughout.
A quick and humorous read, Witch Switch is sure to continue grabbing the hearts of young readers.
Content Analysis:
Profanity/Language: None
Violence/Gore: Girl hit by a shoe; reference to witches spilling hot potions on themselves; girl stumbles on stairs; several references to witch disappearances; girls chased by magic monster; girls run into rooftops; woman worries a spell may go awry; reference to witches accidentally poking each other's eyes; girl pulled by the nose; objects thrown at girl; reference to a cat attacking feet; girl flicks fairy to the ground; girl makes houses disappear; girl is cursed; fairy flyes into statue
Sex/Nudity: None
Mature Subject Matter:
Politics.
Alcohol / Drug Use:
None
Reviewed By Amberle