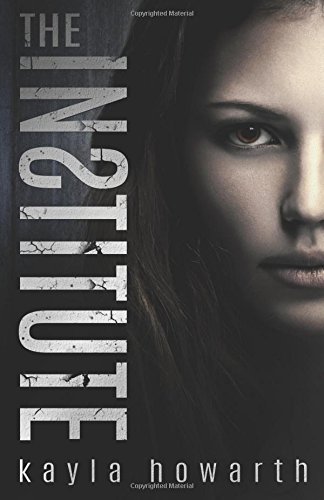 Publisher's Note:
Living in constant fear. Always looking over your shoulder. The source of your fear? The Institute. Allira Daniels will do anything to keep her Defective brother safe from the Institute. They claim to protect Defectives, but it's human nature to fear the unknown. Defectives are dangerous, they possess abilities that no human should be able to. To Allira and the rest of her family, the Institute seems more like a prison than the safe-haven they promote themselves to be. Protecting Shilah from that fate is their number one priority. When Allira stumbles across a car crash involving two of her school classmates, she ignores all of her father's warnings of laying low and not drawing attention to herself. By doing so, she may have just caught the eye of the Institute. She's not Defective, but what seventeen-year-old girl has the ability to pull two teenage boys away from a fiery rubble and walk away without a scratch? It would definitely be seen as suspicious. Allira and her family need to make decisions. Do they stay, or do they flee again? Will they be coming for her? Will her whole family come under investigation? Will they discover Shilah and his ability to predict the future? Are you Defective? The Institute is coming for you.
The Institute, Book 1: The Institute Series
by Kayla Howarth
Overall Review:
Narrated in the first person by a teenage girl, Allira's internal dialog is pretty typical of a girl that age. Struggling to gain control of mood swings, emotions, boys, and all the feelings they evoke in a teen girl, Allira is attempting to balance all the parts of her life. Even though she's always looking over her shoulder, life is ultimately all about family. Family comes first. Set is a futuristic dystopian society, life is a struggle and humanity craves normalcy.
Supporting characters turn out to be not quite as black and white as they first present themselves, making for some exciting situations. Full of energy, they are well-developed. The author, Kayla Howarth, has done a marvelous job throwing in several plot twists that keep this action-packed tale moving forward at a fast pace. Ultimately, it's a high stakes game of cat and mouse. This book would be a good read for both male and female audiences who enjoy an adrenalin-fueled story. There are four books in this quadrilogy and an additional spin off series that continues this tale.
Content Analysis:
Profanity/Language: 14 mild obscenities; 5 derogatory names; 3 scatological words; 9 anatomical terms; 3 F-word derivatives.
Violence/Gore: Vehicle accident with injuries, blood mentioned; death of teenager; little boy hurt a lot of people, multiple mentions; teen girl thrown against wall by men, abducted, nose smashed, some blood; teen girl backhanded twice on face by man; man repeatedly kicks teenager in side, punches face several times; teen girl pushed across room hitting head on wall; multiple incidence of torture of teen girl; teen girl falls from high up, mild injuries.
Sex/Nudity: Teen boy & girl kissing & making out, some touching in bathing suit areas, mild description, 2 incidences; teen girl wishes she had had sex with boyfriend; teen boy offers a "quickie"; man is gay, mention of sexual "equipment"; young man and teen girl have extended kiss, no details; implied by noise that 2 adults are making out; a discussion about being gay and discrimination; man assumes teen boy & girl have been making out.
Mature Subject Matter:
Disappearances of people, abductions, sexual & social discrimination, mutation, skipping school, death of teen boy, medical institutions, imprisonment.
Alcohol / Drug Use:
None
Reviewed By Beth