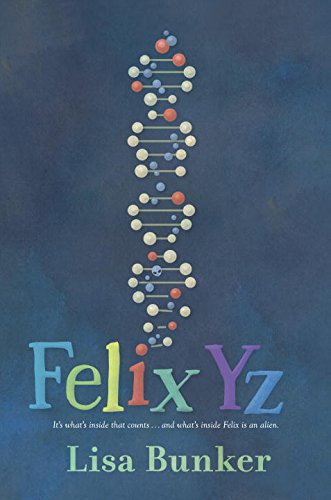 Publisher's Note:
"If it wasn't for the fused-with-Zyx thing, I suppose I would just be normal—whatever that means."

When Felix Yz was three years old, a hyperintelligent fourth-dimensional being became fused inside him after one of his father's science experiments went terribly wrong. The creature is friendly, but Felix—now thirteen—won't be able to grow to adulthood while they're still melded together. So a risky Procedure is planned to separate them . . . but it may end up killing them both instead.

This book is Felix's secret blog, a chronicle of the days leading up to the Procedure. Some days it's business as usual—time with his close-knit family, run-ins with a bully at school, anxiety about his crush. But life becomes more out of the ordinary with the arrival of an Estonian chess Grandmaster, the revelation of family secrets, and a train-hopping journey. When it all might be over in a few days, what matters most?

Told in an unforgettable voice full of heart and humor, Felix Yz is a groundbreaking story about how we are all separate, but all connected too.
This book was sent to Compass Book Ratings for review by Viking Books for Young Readers
Felix Yz
by Lisa Bunker
Overall Review:
Felix Yz (pronounced "is") is a teenager who was accidentally fused with an alien named Zyx (rhymes with six) when he was three years old. Since then, Felix is trapped in a body he can't entirely control, with funny tics and speech issues that have people thinking he's not all there. Worse is the constant pain and struggle against the "Pose" that keeps him hunched over on himself and never able to stand straight, or stretch his hands over his head. And then, of course, there's the issue that if Felix and Zyx stay fused together much longer, their likelihood of survival is drastically low.
Told in a blog-style from Felix's point of view (a countdown to ZeroDay, when a dangerous procedure will be performed on him and Zyx), Felix Yz by Lisa Bunker is a fairly fast-paced read with an authentic-sounding teenage voice.
I don't know why, but for some reason I couldn't connect with Felix at all. He has a serious issue going on, and a really dramatic climax, but for the most part I was pretty "meh" about him and more interested in Zyx, the alien possessing him. I felt this book had tons of potential, but it seemed to focus on other subplots that I found less interesting than the idea of a hyperintelligent fourth-dimension alien possessing a teenager's body.
Because of the content and mature themes, this book is not recommended for younger teens. See content write-up below for issues that may be sensitive for some.
Review of an Advance Reader's Copy
Content Analysis:
Profanity/Language: 1 religious exclamation; 6 mild obscenities; 3 derogatory names; 2 scatological words.
Violence/Gore: A bully knocks a boy down; a character is said to have had a critical accident at a young age; a character has a condition that threatens his life; a character bleeds from a head wound; a character is described "vaporized" from an accident; a character is often bullied at school; a character sometimes discusses/thinks about an upcoming surgery; a character relates the death of a child; a character sometimes discusses pasts deaths and fear of dying; a character sometimes wakes in a muscle-locked and "frozen" position; a character recollects another character's traumatic experience; a character threatens another; two characters have an argument; a character beats up another character; a character sustains minor injuries after jumping from a moving vehicle.
Sex/Nudity: (Note: Be aware this book featured many main characters exploring alternate gender orientation.) A male character likes another boy; a character's grandfather is genderfluid; a male character thinks another boy is so pretty; a character will have to be naked during a procedure; a character is in love with a boy; an adult character explains his genderfluid choices to a teenager; a male character occasionally has romantic thoughts/feelings for another boy; a male character wants to hold another male character in his arms; an adult female is revealed to be bisexual; a genderfluid character spends one day a week naked in a room, identifying as neither gender; a male character has horrified thoughts about walking in on his naked grandparent; a character cannot identify someone's gender; a female character is described wearing nothing but a t-shirt; two boys hug; male teenage characters hold hands; a male character kisses another male character's cheek; a female character caresses another female character's hand; a character's entire body is shaved for a procedure; a character is undressed prior to a procedure; a character reveals his actual sex as being male.
Mature Subject Matter:
Sexual orientation, gender fluidity, homosexulity, death of a family member, childhood trauma, accident resulting in decreased quality of life.
Alcohol / Drug Use:
Characters infrequently drink alcohol.
Reviewed By Katrina