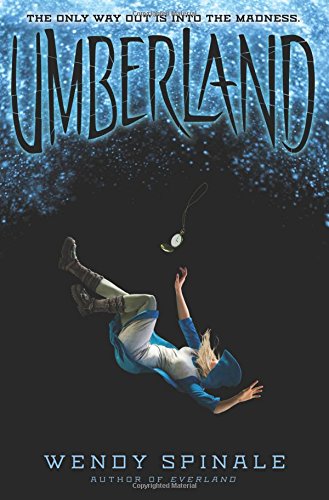 Publisher's Note:
Gwen, Pete, and the others have escaped from Everland. But the safe haven they hoped to find at Alnwick Castle doesn't exist. With the Queen of England on her deathbed, Duchess Alyssa has stepped in to lead, but things have gotten worse as the cure Doc created for the Horologia virus has mutated, accelerating the disease. The only possible solution he can think of is to go back to the virus's origin: an extinct poisonous apple.

Legend has it a tree bearing the apple might be found at the center of a deadly labyrinth hidden deep within Germany. A place that no one in their right mind enters. Leaving Pete in charge of the survivors, Alyssa sets out with only her sword, her wits, and the help of Maddox Hadder, a wild boy who oversees the castle gardens. To get to the center of the maze, she'll be forced to battle monsters more terrifying than her darkest nightmares.
This book was sent to Compass Book Ratings for review by Scholastic
Umberland (Everland, Book 2)
by Wendy Spinale
Overall Review:
I really appreciate when an author makes it possible for you to jump in the middle of a series without being confused. Wendy Spinale does just that in book two of the Everland Series, Umberland. The way Spinale mixed the stories of "Peter Pan" and "Alice in Wonderland" is quite clever. Add a little steampunk and dystopian themes and you have an intriguing story. The characters she conceived are excellent, especially Maddox Hadder; he is just enough crazy mixed with charming to make him captivating. The relationship dynamics between several of the characters, namely Jack and Hook as well as Katt and Alyssa, added an intensity to the plot. Also, once some of the characters make it to the ever-changing and extremely dangerous maze, be prepared for a bit of anxiety. From what I understand, the third book of the series is to be "Snow White" themed, which sounds exciting and I look forward to continuing on in the series.
Content Analysis:
Profanity/Language: 1 scatological word.
Violence/Gore: Many (63) brief incidents including character thinking about killing another; character nearly hurt; reference to plants that will make you scratch until you bleed; verbal threats; people want to die because they're so sick; reference to deadly animals and plants; characters make plans to fight; suggestion that there's going to be a bloodbath; second-hand report of a battle; references to assisted suicide; second-hand report of character getting thrown to crocodile; references to people dying from disease; second-hand reports of characters' parents dying; skulls from the dead hanging; second-hand report of character having arm cut off; reference to child getting beat by mother; character's thought to be dead; character has thoughts of suicide; smell dead carcasses; reference to seeing a dead woman; second-hand report of characters being killed by fantasy animal; character has rock thrown at her that misses; characters get burned; punching; characters get cut and scratched; character imagines being strangled; character dreams about burning bodies; characters fight fantasy animals; character says rats eat dead bodies; characters fight each other sometimes receiving injuries and sometimes nearly killed; character gets attacked; character gets shot at; character kills snake in self-defense; characters nearly drowned; upset character punches and breaks mirror; flying machine shot down; dead bodies get burned; sword fight with depiction of mutilation of body parts; character is poisoned and brief graphic detail given; graphic depiction of character having face broken and being poisoned; graphic description of characters fighting fantasy character during which they receive injuries and kill the character. One extended incident of characters fighting fantasy character and graphic descriptions were given.
Sex/Nudity: Many (27) brief incidents including touching leg, face, elbow; flirting; hugging; holding hands; arm around; kissing; female character fell and landed on male character; characters cuddle to stay warm; male character plays with female character's hair; female character falls in male character's lap; innuendo; second-hand report of character swimming naked in fountain; a male and female character remove wet clothes to dry them leaving underclothes on but he's shirtless and she admires his muscles; female character touches male character's chest.
Mature Subject Matter:
Deadly disease, poisoning, murder, death, war.
Alcohol / Drug Use:
Characters are drunk from fermented food; characters drink opium tea; smoking; drinking beer and liquor; character wishes he had rum.
Reviewed By Jenny