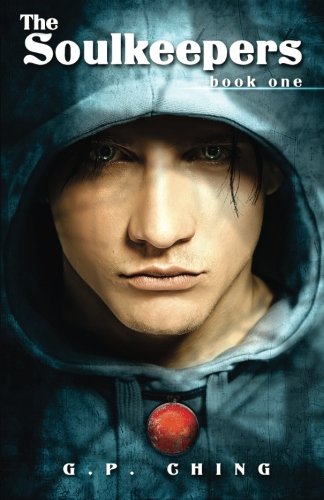 Publisher's Note:
When fifteen-year-old Jacob Lau is pulled from the crumpled remains of his mother's car, no one can explain why he was driving or why the police can't find his mother's body. Made a ward of his uncle and thousands of miles from home, Jacob meets a beautiful and mysterious neighbor, Dr. Abigail Silva, who offers to use her unique abilities to help him find his mom. In exchange, she requires Jacob to train as a Soulkeeper, a gifted warrior charged with protecting human souls. He agrees to her demands, desperate for any clue to the mystery of his mother's disappearance. But soon Jacob finds himself trapped in a web of half-truths and questions Dr. Silva's motives for helping him.
Don't miss these other books in The Soulkeepers Series!
Weaving Destiny (Book 2)
Return to Eden (Book 3)
Soul Catcher (Book 4)
Lost Eden (Book 5)
The Last Soulkeeper (Book 6)
Read the bestselling novel that readers call an utterly spellbinding, elaborate and spectacularly written adventure!
The Soulkeepers, Book 1
by G.P. Ching
Overall Review:
This is truly a battle between good and evil. The author, G.P. Ching, uses a mix of Bible knowledge, mythology, and fiction with a dash of sorcery and magic. Magic is not used in a dramatic TV style of waving wands and casting spells but in a more slick and updated way to affect the appearance of things and interaction with people.
The quality of writing is expressive and conversational. Consistently pulling the reader forward through the book, the plot is unfailingly adventurous. It is narrated by a teen boy in the 10th grade who is struggling to keep ahead of all the changes in his life. He and his girlfriend find themselves in the fight of their lives between good and evil. They have their typical teenage issues of being accepted and knowing where they fit in, but both of the main characters often try to do the honorable thing when faced with adversity. Several other characters come and go throughout the story, entertaining us as they help the story develop. The ending is satisfying yet also builds anticipation for the next book. There are six books in the series. Having read the first chapter of the second book, the excitement continues and the story promises to be quite engaging.
Content Analysis:
Profanity/Language: 3 religious exclamations; 16 mild obscenities; 6 derogatory names; 1 anatomical term; 1 offensive hand gesture; 1 F-word derivative.
Violence/Gore: Major car accident, teen boy hurt seriously, some blood; multiple mentions of husband/father previously dying in Afghanistan in war; mother attacked by violent beast, son witnesses, some blood & wounds; creepy dreams; teen bully throws an egg at a teen as a racial slur, teen contemplates hurting the guy with a fork; in anger, teen boy ties dolls to a fence and smashes them, cut by the glass, he is dripping blood; creepy woman lives across the street; teen boy falls, slams knee on stone & blood flows down his leg; creepy plants lick up blood, grabs at teen boy, ripping off blood soaked fabric; large cat bites character on wrist; teen boy hallucinates, is attacked by large beast; husband died previously; training to fight with weapons; man kills large snake with weapon, people eat it; teen boy is so angry he wanted to physically harm a woman; teen boy's hand is cut, blood mentioned; in a dream, boy is fed maggots; large cat slices pants & skin on leg of teen boy, blood; teen boy is beat up by evil teen girl, blood splattered, many injuries; evil girl forcibly abducts a teen boy, takes him to a room with a lot of dried blood; woman is attacked by 2 bad men, clothing torn off, crowd stands by laughing; humans treated as beasts of burden and slaves, beaten, flesh cut off and eaten repeatedly, tied up, put in cages; teen boy is kicked in side & forced to lick shoes to clean them; major battle between good and evil.
Sex/Nudity: Teen boy and girl kiss several times in story; teen boy glimpses a naked girl through shrubbery but cannot discern body parts; teen boy & girl kiss and she lays on top of him in a seductive manner but gets off without doing anything; mention of naked kids in a village, clinical, no details; teen boy is very aware of a teen girl in a very short skirt and low, tight blouse; 2 adults have a passionate moment and almost kiss.
Mature Subject Matter:
Vehicle accident, death parent in war, Afghanistan, parental disappearance, morphine, guns, knives, fallen angels, God, Satan, Bible scripture, sneaking into a boy/girlfriend's room, sorcery, magic, Muslim Jihad, discrimination.
Alcohol / Drug Use:
Morphine given to teen boy after accident, medical; adult man drinks beer at festival; teen girl drugs teen boy.
Reviewed By Beth