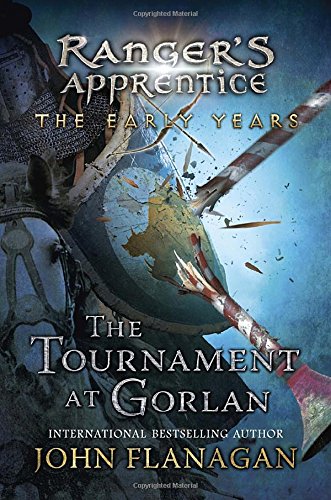 Publisher's Note:
From John Flanagan, author of the worldwide bestselling Ranger's Apprentice—the first in a new prequel series featuring one of our favorite Rangers, Halt!

When Halt and Crowley discover that the ambitious Morgarath has been infiltrating the Rangers in order to corrupt the Corps, the young Rangers travel north to find Prince Duncan, seeking a royal warrant to stop Morgarath before it is too late. By weakening the Rangers, the most powerful force in support of the King, Morgarath plans to steal the throne.

Yet when Halt and Crowley arrive in Gorlan, they discover just how close Morgarath's scheme is to success. Morgarath has a plan to discredit the Prince and alienate him from his father. At the same time, the Baron of Gorlan has been conspiring to win the trust and admiration of the Council of Barons to further his plan. If the young Rangers are to prevent the coup from succeeding, they will have to tread a dangerous path, which leads them to a thrilling climax at the annual tournament at Gorlan, where a series of bitter duels must be fought and won.

This origin story brings readers to a time before Will was an apprentice, and lays the groundwork for the epic battles that will culminate with The Ruins of Gorlan and The Burning Bridge—Books 1 and 2 of the Ranger's Apprentice series.
The Tournament at Gorlan
by John Flanagan
Overall Review:
For those familiar with the New York Times Bestselling Ranger Apprentice Series by John Flanagan, The Tournament of Gorlan is an origin story. It goes back in time to look at some of the adult characters. Unlike the Ranger Apprentice books, the characters are not teens; they are already adults, but still young and starting out with their lives. It is not necessary to have read the original series, but it would probably add to the charm and appreciation of this novel. The humor is dry, wry, and plentiful. The characters are either noble, loyal, admirable, and idealistic, or darkly evil and manipulative. This is a swash-buckler with Errol Flynn-type action: archery, jousts, and rescues. This book doesn't tie things up neatly, but is poised for the next book to continue the action. A highly recommended read for all ages and genders that love an adventure! (Audio version was top-notch!)
Review of Unabridged Audio Edition
Content Analysis:
Profanity/Language: 1 mild obscenity.
Violence/Gore: Character knocked unconscious; character looks in a book that details mythical beasts that kill; a few separate discussions of battle strategy/planning attacks; report of kidnapping; character held against will; report of pillaging; battle scene in which armed men fight villagers including women with arrows and other weapons resulting in injuries and deaths; character kidnapped, knocked unconscious, accidentally dropped (somewhat humorous); brief scene of fighting with arrows--arrow through leg, arms, and one death; verbal threats sometimes accompanied by weapons; dangerous situations of peril that could result in death; extended rescue scene with hand-to-hand combat, death, injuries, rending unconscious, tying-up; brief fight in a tavern; arrows shot at characters in warning; joust with resulting injury; report of attempted poisoning; death by poisoning; extended joust scene with intent to kill; character found murdered, brief description.
Sex/Nudity: A man finds a woman attractive.
Mature Subject Matter:
Treason, death, kidnapping.
Alcohol / Drug Use:
Several scenes in taverns; adults drink; one character is found quite drunk from wine; character drugged.
Reviewed By Cindy