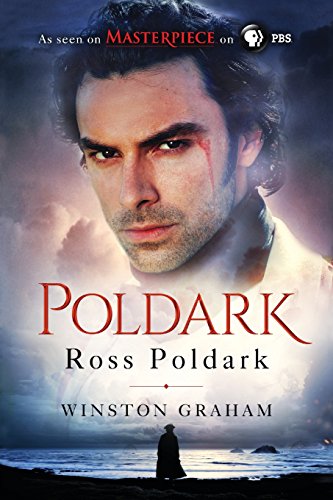 Publisher's Note:
As Seen on Masterpiece™ on PBS®: Book 1 of the beloved Poldark series
In the first novel in Winston Graham's hit series, a weary Ross Poldark returns to England from war, looking forward to a joyful homecoming with his beloved Elizabeth. But instead he discovers his father has died, his home is overrun by livestock and drunken servants, and Elizabeth?believing Ross to be dead?is now engaged to his cousin. Ross has no choice but to start his life anew.
Thus begins the Poldark series, a heartwarming, gripping saga set in the windswept landscape of Cornwall. With an unforgettable cast of characters that spans loves, lives, and generations, this extraordinary masterwork from Winston Graham is a story you will never forget.
Ross Poldark
by Winston Graham
Overall Review:
Author Winston Graham has written 42 novels. Thanks to a recent Masterpiece Theater series his historical fiction is being re-discovered and coming back into popularity. Set on the Cornish coast after the Revolutionary War, it has strong characters in an epic chronicle of the Poldark clan. This is classic historical fiction. This first installment of the saga is approximately half of season one of the television show.
I have a working theory--unsupported by statistical data--that the medium (movie, play, book, etc.) in which you first experience a story (that you love) will be your favorite version. I was so taken and enraptured by the recent Masterpiece production of Poldark that I can't objectively assess the book. As I read, the television characterizations overwhelm the written word. Thus, I am rating the book a 4 out of 5 stars only because I just can't untangle my viewing experience and reading experience! I adored the series and quite enjoyed the book, but as I read the book, I was reliving the television show. Highly recommended for historical fiction lovers!
Content Analysis:
Profanity/Language: 15 religious exclamations; 38 mild obscenities; 8 derogatory names.
Violence/Gore: Report of injuries in war; character is hit; verbal threats; scene of a cock fight; report a father beats his daughter, welts are seen; boys gang up and hit a girl trying to free an animal; character tells of a fight/brawl between 2 large groups of men; extended fight (fists, wrestling) scene between two men, descriptive; characters are slapped; characters are punched; pistol duel resulting in a severe injury; woman and baby are stabbed by a man; character falls to death; report of a fight between a man and woman who had been drinking; various reports of medical practices involving bleeding.
Sex/Nudity: Prostitute pressures/propositions man, it says man eventually went with her (no details); female stripped and bathed under water pump (non-sexual); archaic sexual reference; insults flung between groups of men, some sexual innuendo; rumors about a character's philandering ways; gossip about two characters having a sexual relationship (non-detailed); implied sex between husband and wife; character swims naked in sea (non-sexual); married characters kiss; reference to harlot; brief scene in which 17 year old and 27 year old kiss, remove dress, touch back/wast, and wake up in be next morning, sex implied, no descriptions; vague allusion to married couple's intimate life; married characters hold hands; husband slaps wife's butt; reference to "copulation"; rumors of "other woman".
Mature Subject Matter:
Death, gambling, prostitution, class discrimination, poaching, economic disparity, poverty.
Alcohol / Drug Use:
Adults drink socially; drinking at taverns; reference to "poisonous abortion powders".
Reviewed By Cindy