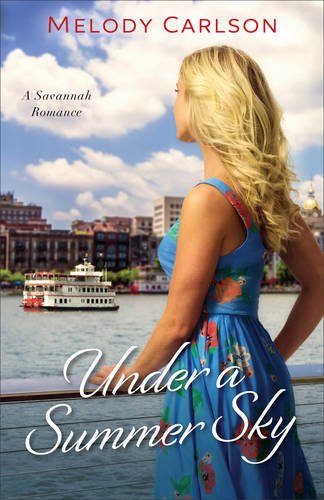 Publisher's Note:
High school art teacher Nicole Anderson is looking forward to a relaxing summer in Savannah, house-sitting and managing an art gallery for a family friend. The house is luxurious in a way that only old money could make it, and the gallery promises interesting days in a gorgeous setting. Yet it isn't long before her ideal summer turns into more than she bargained for: a snooty gallery employee who's determined to force her out, a displaced adolescent roosting in the attic, and two of Nicole's close childhood friends--who also happen to be brothers--vying for her attention.

With a backdrop of a beautiful historical city, incredible architecture, and even an alleged ghost or two, combined with the opportunity for romance . . . anything can happen!

Bestselling and award-winning author Melody Carlson invites readers to spend the summer surrounded by beauty and tantalizing possibilities for the future.
This book was sent to Compass Book Ratings for review by Revell
Under a Summer Sky
by Melody Carlson
Overall Review:
Under a Summer Sky concludes the Follow Your Heart trilogy by Melody Carlson. Many positive things can be said here. The story helps the reader picture and become part of the city of Savannah, Georgia. It includes some history and information without being a historical lecture series.
Two of the main characters, Nicole and Ryan, are especially likeable, and it is easy to cheer for the hoped for romance. The compassionate traits of Ryan and Nicole are quite admirable. Some of the other main characters are especially irritating and unfriendly. It certainly makes them easy to dislike.
Romances follow typical patterns in most novels, and this story is much the same. Two characters who are friends are hiding their mutual attraction. Then suddenly they are no longer hiding and tada, romance. This might seem like a bit of a spoiler, but this is fairly obvious from the beginning. The author does a great job of leading her couple down a path of mutual friendship and appreciation before having her characters kiss or hold hands. It is great. The not so great part is the abrupt ending. The plot was something like renew friendship, renew friendship, renew friendship, two seconds (or two pages) of kindling of romance and bam, it's over...the entire book.
The reason for the lower rating here is not based on the author's ability to craft a tale, but rather her lack of tying up loose ends and her abrupt ending. This reader was hoping to have a few pages with Ryan and Nicole together as a couple and dealing with a few issues. Instead, the issues and the relationships leave the reader wanting. Had there been a sequel planned for these other characters then things would feel more settled.
Content Analysis:
Profanity/Language Rating: 1 religious exclamation.
Violence/Gore: Report of a man shooting and killing his wife and then himself; his child finds the bodies.
Sex/Nudity: A character mentions that a woman was pregnant prior to marriage and that she might have intentionally become pregnant; non-married characters kiss.
Mature Subject Matter:
Divorce, unwed pregnancy.
Alcohol / Drug Use:
A few instances of adults consuming beer and alcohol; a character recalls a young woman becoming sick from alcohol poisoning; a thirteen-year-old consumes vodka and becomes ill.
Reviewed By Susan