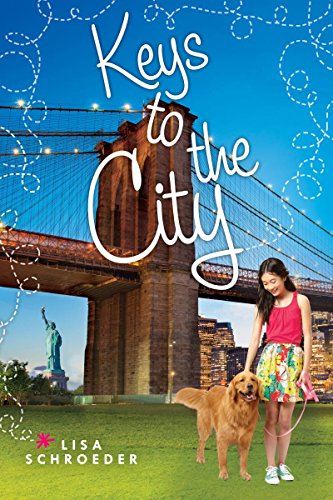 Publisher's Note:
Lindy can't believe she has homework this summer -- to find her "true passion." Does curling up with a good book count? Probably not. Luckily, Lindy has the help of a new friend, a happy dog, and a special journal, as she hits the streets of New York City to unlock her secret talents!
This book was sent to Compass Book Ratings for review by Scholastic
Keys to the City
by Lisa Schroeder
Overall Review:
Twelve-year-old Lindy has the summer to find her passion and conquer her fear. Should be a piece of cake, right? Well, if you have New York City at out your front door, there is certainly a lot of opportunities to figure it out. In Lisa Schoeder's latest novel, Keys to the City, readers are introduced to the great city of New York through Lindy's eyes as she takes on some interesting learning opportunities, makes new friends, and overcomes her fears that come from having to try new things.
Just as in Schroeder's other novels, My Secret Guide to Paris and Sealed with a Secret, the city is a critical part of the story, making it an interesting intro to what it would be like to live there. Before each chapter there is a definition of New York City lingo that applies to that chapter. Then the chapter ends with a piece of Lindy's writings--which is also an integral part of the story. As Lindy searches for and tries new things all around the city, she learns along the way that comparison can be the thief of joy and that sometimes it takes a little more effort to conquer one's fears, but by doing so there is so much more to enjoy in the world. Schroeder once again captures the innocent voice of a 12-year-old, all the while keeping the novel interesting and fast-paced which perfectly matches New York City life.
Content Analysis:
Profanity/Language: None
Violence/Gore: None
Sex/Nudity: None
Mature Subject Matter:
Divorce.
Alcohol / Drug Use:
None
Reviewed By Sally