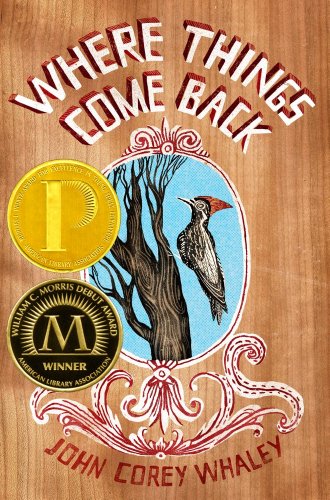 Publisher's Note:
Just when seventeen-year-old Cullen Witter thinks he understands everything about his small and painfully dull Arkansas town, it all disappears. . . .
In the summer before Cullen's senior year, a nominally-depressed birdwatcher named John Barling thinks he spots a species of woodpecker thought to be extinct since the 1940s in Lily, Arkansas. His rediscovery of the so-called Lazarus Woodpecker sparks a flurry of press and woodpecker-mania. Soon all the kids are getting woodpecker haircuts and everyone's eating "Lazarus burgers." But as absurd as the town's carnival atmosphere has become, nothing is more startling than the realization that Cullen's sensitive, gifted fifteen-year-old brother Gabriel has suddenly and inexplicably disappeared.
While Cullen navigates his way through a summer of finding and losing love, holding his fragile family together, and muddling his way into adulthood, a young missionary in Africa, who has lost his faith, is searching for any semblance of meaning wherever he can find it. As distant as the two stories seem at the start, they are thoughtfully woven ever closer together and through masterful plotting, brought face to face in a surprising and harrowing climax.
Complex but truly extraordinary, tinged with melancholy and regret, comedy and absurdity, this novel finds wonder in the ordinary and emerges as ultimately hopeful. It's about a lot more than what Cullen calls, "that damn bird." It's about the dream of second chances.
Where Things Come Back
by John Corey Whaley
Overall Review:
Where Things Come Back by John Corey Whaley is the 2012 Micheal L. Printz Award Winner. Two seemingly unrelated stories, both in content and style, are brought together in this tale of brothers, woodpeckers, and small-town life. Whaley successfully paints the stifling entrapment sometimes felt in small-towns, the effects of bereavement, and the emotional phases of a devastating event. However, less successful are some character motivations and their resulting actions. Unpredictable, the book kept me guessing literally right up to the last page. My favorite aspect of the book was the relationship between the two brothers, Gabriel and Cullen, and the taste of hope at the conclusion.
Content Analysis:
Profanity/Language: 5 religious exclamations; 46 mild obscenities; 11 derogatory names; 46 scatological terms; 23 anatomical terms; 1 F-Word derivative.
Violence/Gore: A character identifies a body in a mortuary; report of death in a car accident; report of death in a fishing accident; a character fantasizes about a zombie killer scene; report of a car accident with death and drunk driving; two instances of characters being punched in the face; a character imagines another character being dug up from a grave; report of a man hitting his wife and children; a character is knocked unconscious and kidnapped; a character is kicked and thrown into a TV; a character commits suicide.
Sex/Nudity: Boys referred to as gay if they don't like sex; character kissed on the cheek; condoms are sold at a store; mention of a prostitute; jokes about characters sleeping with other characters; reference to "X-rated moments"; a character is referred to as a "skanky harlot"; reference to characters "shacking up"/"bedding down"; a character is accused of being gay; joking about two guys kissing; minor-aged character has sex with a 19 year old (brief, non-detailed); a character becomes pregnant; two minor-aged characters have sex (brief, non-detailed).
Mature Subject Matter:
Death, Kidnapping/Abduction, Drug and Alcohol Abuse,Teenage Sex.
Alcohol / Drug Use:
Report of a character doing drugs. Report of teenagers being drunk at a party. Reference to how a father had stopped drinking and another reference to an alcoholic father. References to college drinking.
Reviewed By Cindy