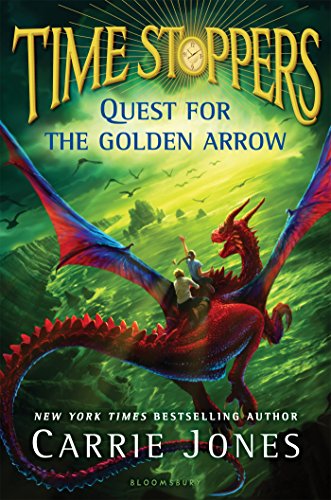 Publisher's Note:
Return to the magical town of Aurora in this exhilarating second book in the Time Stoppers series--perfect for fans of Percy Jackson and The Five Kingdoms.
Annie is no longer a Nobody--she's a Time Stopper, one of the last humans who can control time. Now, she's found a home in the enchanted town of Aurora alongside all sorts of mystical creatures alongside, and made three best friends in Eva the dwarf, Bloom the last elf, and Jamie, who might be a troll.
Then Annie discovers that the wicked Raiff has kidnapped her beloved new guardian. To save her, Annie must win the trust of a riddle-loving dragon and search for a magical bow and arrow. But as Annie and her friends embark on this mission, she learns some shocking secrets about her past--and about Bloom's, too. Can they save the day before the Raiff destroys everything they hold dear?
This book was sent to Compass Book Ratings for review by Bloomsbury USA
Quest for the Golden Arrow (Time Stoppers 2)
by Carrie Jones
Overall Review:
Annie and Jamie thought that once they had defeated the evil invaders and recovered the magical gnome that protects Aurora they would be safe. But they never imagined that they would be betrayed by someone sworn to protect the magical town and its inhabitants. Or that the betrayal would send them on not one, but two, rescue missions to the heart of the Badlands, where the evil Raiff reigns supreme.
Carrie Jones's the Quest for the Golden Arrow, the second book in the Time Stopper series, is everything a reader could want in a sequel. Picking up exactly where the first left off it, the same heart and feeling running as though there was never a break. All your favorite characters return and the reader has the privilege to be introduced to several new faces as well. Action-packed and quick-paced, the Quest for the Golden Arrow grabs you just as the first and leaves you on the edge of your seat wanting more.
Review of an Advance Reader Copy
Content Analysis:
Profanity/Language: 1 religious exclamation.
Violence/Gore: Girl pulls boy by the ear; character goes missing; girl bites her lip until it bleeds; girl head-butts other girl; many verbal threats, both benign and violent; a few instances of hags using magical eyeballs; character kicks dwarf; woman tweaks boys nose; many references to possible violence happening; magical creatures captured with iron; references to man becoming violent when drinking; character crashes into wagon; girl bites boy; character references an ancestor killing pirates; many small fantasy battle scenes; girl tells boy to squish monsters; people and dog sustain minor injuries; town engages in minor witch hunt; references to the dangers of dragons; character falls from cliff; character accidentally shoots dragon's tale; character faints; headless horseman brings minor destruction to fairies; sick boy bears several injuries; boy attacks group; character tells of violence done while in captivity, both magical and not; several references to girl's parents dying; character nearly hit by car; boy and girl engage in good natured physical altercations; reference to the violent origins of a magical monster; girl attacks boy; children face a magical booby trap; character tells of computer catching fire; character hits himself in the head; boy and girl cursed briefly; character carried away by magical birds and dropped in field; reference to woman killing herself; man predicts girls death; demon threatens woman with knife; character falls off dragon; mythical creature sustains minor injury; girl slaps man; man punches boy; girl kicks boy.
Sex/Nudity: Many instances of boys and girls holding hands; boy puts arm around girl; girl kisses small girls cheek; Big Foot hugs girl; fairies kiss boys ears; girl grabs boy's arm; boy kisses other boys head, celebratory; girl kisses boy's cheek; a few instances of boys and girls hugging.
Mature Subject Matter:
Violence, prejudice, death of parents, friendship.
Alcohol / Drug Use:
References to adults drinking.
Reviewed By Amberle