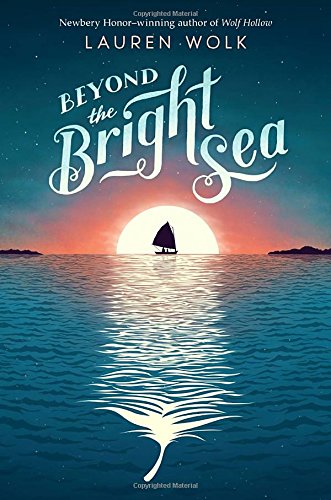 Publisher's Note:
From the author of Newbery Honor–winner Wolf Hollow, the moving story of an orphan, determined to know her own history, who discovers the true meaning of family.

Twelve-year-old Crow has lived her entire life on a tiny, isolated piece of the starkly beautiful Elizabeth Islands in Massachusetts. Abandoned and set adrift in a small boat when she was just hours old, Crow's only companions are Osh, the man who rescued and raised her, and Miss Maggie, their fierce and affectionate neighbor across the sandbar.

Crow has always been curious about the world around her, but it isn't until the night a mysterious fire appears across the water that the unspoken question of her own history forms in her heart. Soon, an unstoppable chain of events is triggered, leading Crow down a path of discovery and danger.

Vivid and heart-wrenching, Lauren Wolk's Beyond the Bright Sea is a gorgeously crafted and tensely paced tale that explores questions of identity, belonging, and the true meaning of family.
This book was sent to Compass Book Ratings for review by Dutton
Beyond the Bright Sea
by Lauren Wolk
Overall Review:
Crow came from the sea. Washing ashore in a rickety old boat, only hours old, to be found and raised by an old fisherman whom she affectionately calls Osh. Content and happy she never felt the need to look beyond her little island for anything, until one day when she was twelve. Curious about where she came from and why the rest of the islanders treat her differently, she begins to question the events that led her birth parents to send her away as they did. Never dreaming that those questions could cost her everything.
Beyond the Bright Sea by Laura Wolk is a vivid, beautiful story of identity and family. Wolk's characters are simple, yet incredibly tangible. And her tone, reminiscent of Scott O'Dell's The Island of the Blue Dolphins, lends the tale a special flavor; giving characters and setting a distinctive depth. The subtle intensity that runs throughout keeps the reader glued to the pages and as desperate to know "why" as Crow is herself. Beyond the Bright Sea is a must read that will capture the heart and imagination of readers of any age.
Review of an Advance Reader Copy
Content Analysis:
Profanity/Language: 1 religious exclamation.
Violence/Gore: Many references to a baby being pushed out to sea on a boat; girl recalls stranded dolphin; several vague references to fighting and violence; girl recalls being very sick; a few references to a woman nursing animals back to health, both successfully and unsuccessfully; girl sees fires on a distant beach; girl references dolphin hunting; man refers to hunting; reference to stillborn baby; several references to lobster trapping; girl recalls being pinched by lobster; many references to leprosy; lamb is killed by animal; man bound and gagged; man threatens other man; reference to a girl being burned; man attacks group; several references to shipwrecks; men injured in shipwreck; character ransacks house; man attacks and threatens girl; character ties up man and woman; character falls from tree.
Sex/Nudity: Young man hugs girl.
Mature Subject Matter:
Family, self, illness, greed.
Alcohol / Drug Use:
Brief reference to adult man drinking alcohol.
Reviewed By Amberle