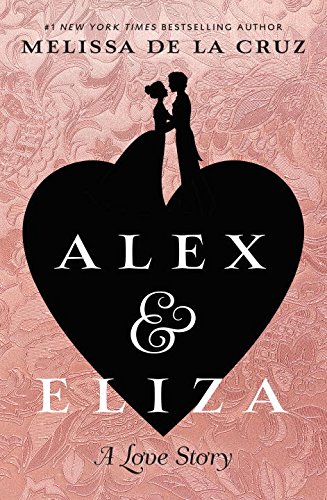 Publisher's Note:
From the #1 New York Times bestselling author of The Witches of East End and the Descendants series comes the love story of young Alexander Hamilton and Elizabeth Schuyler.

1777. Albany, New York.

As battle cries of the American Revolution echo in the distance, servants flutter about preparing for one of New York society's biggest events: the Schuylers' grand ball. Descended from two of the oldest and most distinguished bloodlines in New York, the Schuylers are proud to be one of their fledgling country's founding families, and even prouder still of their three daughters—Angelica, with her razor-sharp wit; Peggy, with her dazzling looks; and Eliza, whose beauty and charm rival those of both her sisters, though she'd rather be aiding the colonists' cause than dressing up for some silly ball.

Still, Eliza can barely contain her excitement when she hears of the arrival of one Alexander Hamilton, a mysterious, rakish young colonel and General George Washington's right-hand man. Though Alex has arrived as the bearer of bad news for the Schuylers, he can't believe his luck—as an orphan, and a bastard one at that—to be in such esteemed company. And when Alex and Eliza meet that fateful night, so begins an epic love story that would forever change the course of American history.

In the pages of Alex and Eliza, #1 New York Times bestselling author Melissa de la Cruz brings to life the romance of young Alexander Hamilton and Elizabeth Schuyler.
This book was sent to Compass Book Ratings for review by G. P. Putnam's Sons
Alex and Eliza: A Love Story
by Melissa de la Cruz
Overall Review:
Being unable to stay awake through most non-fiction books, I love when an author sneaks history into a story. Though it's not necessarily sneaking it in when you know the genre is historical fiction, but you get the idea. As author Melissa De La Cruz, gives us a peek into the lives of the early colonists, it was interesting to read about how exclusive they were when it came to marriage. They kept it all between just a few wealthy families, thinking they were superior to those who weren't the first colonists--which is ironic when you consider the fact that they hadn't arrived much earlier themselves. It's always fun to read about fancy parties, arranged marriages, everyone being all proper and such, but it is even better when you get to hear about someone who has been brought up that way but refuses to conform. Eliza and Alex would've been fantastic people to meet. They were both kind, down-to-earth, hard-working individuals with high morals. Unfortunately, having come from completely different backgrounds, their Romeo and Juliet-type romance was doomed for failure. Fortunately, the impossibility of it all changed because of the war. De La Cruz delivers a compelling love story with a scandal and suspense that you will think about long after completion. Fans of historical fiction or romance will adore Alex & Emma.
Review of an Advance Reader Copy
Content Analysis:
Profanity/Language: 5 religious exclamations; 4 mild obscenities; 1 religious profanity; 2 derogatory names.
Violence/Gore: Many (36) brief incidents including characters wanting to hurt another; sharpening knife to carve duck; character worried about another dying; character wants to die so another doesn't worry about him; second-hand reports of death; reference to many slaves dying; reference to hurricane causing much destruction including death; reference to character receiving an injury during war; character helps soldiers who are hurt; reference to fighting squirrels; reference to character having pox and scratching until bleeding; references to injured soldiers; references to fighting war; reference to where people are hanged; second-hand report of character getting hanged; reference to sheep getting killed; character injures ankle; characters have arm scratched in order to receive immunization; characters get punched; characters get attacked, some shot and killed.
Sex/Nudity: Many (30) brief incidents including female character has arms around male character while riding horse; dancing at a ball; touching hand and back; flirting; holding hands; walking arm in arm; hugging; kissing; dressed pushed up breasts; character's dress compelled one to look at cleavage; reference to unmarried woman being pregnant; innuendo; reference to mistress; reference to brothel; male character has hand on female character's (clothed) hip; male character tries to kiss and possibly have sex with female character against her will (not completely clear what his intentions are as he is just standing over her); reference to men going to prostitutes; girls going to hayloft with men; implied sex.
Mature Subject Matter:
Slavery, war, death.
Alcohol / Drug Use:
Characters drinking at a party; soldiers smoking; men smoke cigars and drink whiskey at dinner party; drinking at wedding.
Reviewed By Jenny