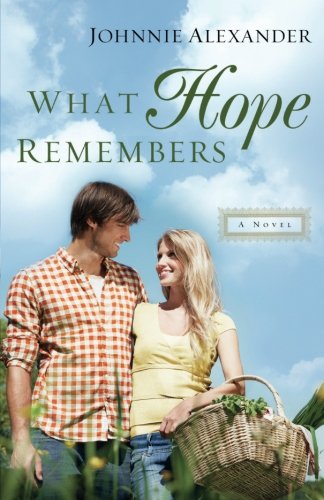 Publisher's Note:
When Amy Somers loses her job as a lobbyist, she moves to Misty Willow, well aware that she's crossing bridges she'd burned years before. With all the mistakes she's made and the uncaring things she's done--even to her own family--she can hardly believe that happiness will find her, especially when Gabe Kendall, her first crush and her first kiss, rides back into her life atop a buckskin mare.

A former Marine, Gabe is at loose ends after serving a prison sentence for being in the wrong place at the wrong time. He sees beyond Amy's hard exterior to the girl he once knew and loved, and he longs to see her open her heart. Yet with his vision clouded by shame for his past and fears about the future, he finds it difficult to see the path ahead.
This book was sent to Compass Book Ratings for review by Revell
What Hope Remembers
by Johnnie Alexander
Overall Review:
What Hope Remembers by Johnnie Alexander is the third book in the Misty Willow series. Although not required, reading the previous two books gives a great deal of back story that adds depth to the characters and their experiences.
Those who enjoy stories about redemption, forgiveness, and romance will appreciate this read. The story is not all rainbows and sunshine. Quite a number of events or recalled events illustrate the callus, calculating nature of human beings. It also shows the ability of individuals to rise above the pain and heartache.
In some ways, the characters seemed flat and perhaps not entirely believable. It almost felt as though they wanted to change, but just hadn't quite implemented the changes. Then the characters were suddenly reported to have altered their thinking. However, the underlying messages were positive and hopeful.
Content Analysis:
Profanity/Language: None
Violence/Gore: Report that a man was shot and killed; animals and a person die in an arson fire.
Sex/Nudity: Child was reported to have born out of wedlock; character alludes to having had many sexual encounters with multiple partners; person reports being involved in an affair; non-married characters kiss, hold hands and embrace.
Mature Subject Matter:
Eating disorders, murder, death of parents, affairs, deceit.
Alcohol / Drug Use:
Character used to drink heavily; character has a cigar.
Reviewed By Susan