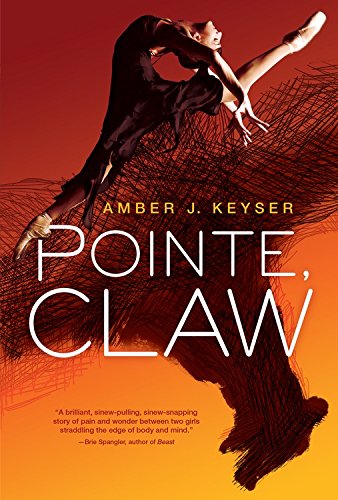 Publisher's Note:
Jessie Vale dances in an elite ballet program. She has to be perfect to land a spot with the professional company. When Jessie is cast in an animalistic avant-garde production, her careful composure cracks wide open. Nothing has felt more dangerous.

Meanwhile, her friend Dawn McCormick's world is full of holes. She wakes in strange places, bruised, battered, and unable to speak. The doctors are out of ideas.

These childhood friends are both running out of time. Jessie has one shot at her ballet dream. Dawn's blackouts are getting worse. At every turn, they crash into the many ways girls are watched, judged, used, and discarded. Should they play it safe or go feral?
This book was sent to Compass Book Ratings for review by Carolrhoda Lab
Pointe, Claw
by Amber Keyser
Overall Review:
Pointe, Claw is a raw, emotional tale of two girls. One, a beautiful ballerina discovering what it is to dance with emotion. The other, a feral girl trying to find in what world she belongs. Full of angst, discovery, and intensity, this is not a story for the faint of heart.
This book set me on edge at first. Jessie's story was easy to read. Full of the beauty of ballet and the trials that a pre-professional dancer faces. Broken feet, sore muscles, and a general sense of not being good enough. Dawn's story is raw. She finds herself in these fugue states and drawn to wildlife with animalistic instinct. The prose used in her narrative is rough, with words slammed together, yet contains almost a poetic beauty as you approach the end of the book.
Ultimately, this is a story of two girls rediscovering a friendship in the midst of discovering themselves. Unabashed in word choice, Point, Claw oozes a dark beauty reminiscent of Black Swan. A good read for anyone looking for a different perspective on discovery of the female form.
Content Analysis:
Profanity/Language: 9 religious exclamations; 11 mild obscenities; 5 religious profanities; 13 derogatory names; 28 scatological words; 16 anatomical terms; 3 offensive hand gestures and 24 f-word derivatives.
Violence and Gore: Girl jumps out of window resulting in cuts and scrapes; report of death by self-inflicted gunshot; child is spanked; report of whale killing trainer; reports of animal death via cruelty; injured feet due to dancing including blisters, peeling skin, bloody toes and heels; man beats dog; woman slaps man in face; two instances of forceful grabbing of an arm; girl punches wall; fence cut.
Sex and Nudity: Multiple kisses including kisses between two teenage girls; teen girl naked in bathtub; multiple references to having sex; references to lesbians; hand on girl's thigh; man runs hands up and down teenage female dancer's body in sexual manner; masturbation with minimal detail; two instances of girl fondling self; young girls take off underwear; scene at strip club with dancing and nudity depicted.
Mature Subject Matter:
Suicide, divorce, homosexuality, mental disorders, marriage infidelity, underage drinking.
Alcohol / Drug Use:
Adults smoke, adults drink wine and hard liquor, teens drink alcohol.
Reviewed By Beckie