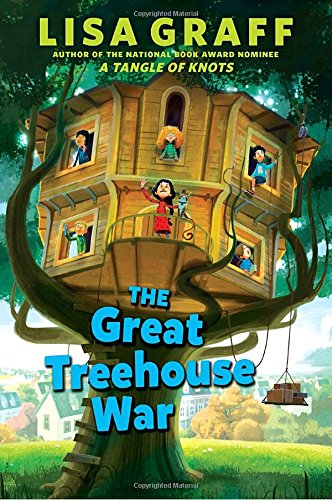 Publisher's Note:
Kids vs. parents! An epic treehouse sleepover! An awesome group of friends! An exciting new book from National Book Award finalist Lisa Graff.

Winnie's last day of fourth grade ended with a pretty life-changing surprise. That was the day Winnie's parents got divorced and decided that Winnie would live three days a week with each of them and spend Wednesdays by herself in a treehouse smack between their houses, to divide her time perfectly evenly between them. It was the day Winnie's seed of frustration with her parents was planted, a seed that grew until it felt like it was as big as a tree itself.

By the end of fifth grade, Winnie decides that the only way to change things is to barricade herself in her treehouse until her parents come to their senses—and her friends decide to join. It's kids versus grown-ups, and no one wants to back down first. But with ten kids in one treehouse, all with their own demands, things can get pretty complicated pretty fast! Even if they are having the most epic slumber party ever.

In the newest novel by beloved National Book Award finalist Lisa Graff, kids have turned the tables on their parents, and all the rules have been tossed out the window. But does Winnie have what it takes to hold her ground and keep everyone happy?

This story, with a pitch-perfect middle grade voice and a zany yet poignant situation, is perfect for fans of Sharon Creech, Louis Sachar, and Jack Gantos.
This book was sent to Compass Book Ratings for review by Philomel
The Great Treehouse War
by Lisa Graff
Overall Review:
The Great Treehouse War, written by Lisa Graff, is a light-hearted approach to a difficult topic that alters children's lives, namely divorce. It all starts when Winnie, a 5th grader, finds herself in the middle of her divorced parents' battle of one-up-manship. She is pushed to the end of her patience and decides to do something drastic. This leads to Winnie finding that she is the center of a national media story, stemming from the fact that her and a few friends have locked themselves in her treehouse and the parents subsequently laying siege to the said treehouse. Luckily the treehouse is well equipped and spacious. It all ends with a memoir being written by the kids (which is their attempt to make up the missed home work/school time and which the reader is actually holding in their hands), with humorous side 'sticky notes' throughout the novel. This memoir explains how the whole Treehouse War was resolved, as well as giving insight to what each of the kids learned.
The Great Treehouse War is a delightful novel that would appeal to any middle grader, but especially one that has been affected by divorce. Lisa Graff has a way of crafting a story that takes something serious and turns it around with a different perspective, all while making the reader laugh and think.
Review of an Advance Uncorrected Galley
Check out the other books by Lisa Graff:
A Clatter of Jars, A Tangle of Knots, Absolutely Almost
Content Analysis:
Profanity/Language: None
Violence/Gore: One child breaks their arm in a fall.
Sex/Nudity: None
Mature Subject Matter:
Divorce.
Alcohol / Drug Use:
None
Reviewed By Sally