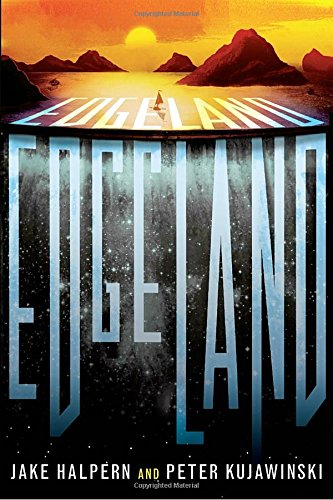 Publisher's Note:
An upper-middle grade thriller by the New York Times bestselling Nightfall authors–perfect for fans of James Dashner's Maze Runner books.

Thousands of miles south of the island of Bliss, day and night last for 72 hours. Here is one of the natural wonders of this world: a whirlpool thirty miles wide and a hundred miles around. This is the Drain. Anything sucked into its frothing, turbulent waters is never seen again.

Wren has spent most of her life on Edgeland, a nearby island where people bring their dead to be blessed and prepared for the afterlife. There the dead are loaded into boats with treasure and sent over the cliff, and into the Drain. Orphaned and alone, Wren dreams of escaping Edgeland, and her chance finally comes when furriers from the Polar north arrive with their dead, and treasure for their dead.

With the help of her friend Alec, Wren plans to loot one of the boats before it enters the Drain. But the boat--with Alec and Wren onboard--is sucked into the whirlpool. What they discover beyond the abyss is beyond what anyone could have imagined.
This book was sent to Compass Book Ratings for review by G.P. Putnam's Sons Books for Young Readers
Edgeland
by Jake Halpern and Peter Kujawinski
Overall Review:
Words that could describe Edgeland by Jake Halpern and Peter Kujawinski are unusual, imaginative and intriguing. That's what you get when your setting is a somewhat dystopian-like society on an island whose economy and class system is based on taking care of other societies' dead and giving them a proper burial. But what if things aren't exactly what they seem and death does not exactly mean what one thinks it means?
Alec and Wren are friends that are on two different sides of society. As an apprentice in a top funeral house, Alec is living comfortably with a rosy perspective about death. Wren, however, is living as an outcast in the sewers and has a much different perspective about life and death. They become unlikely friends and unlikely companions thrown into an adventure they hadn't exactly planned for and for which they have no idea how it will turn out for them. Their adventure beyond the 'Drain' and into the 'Afterlife' will leave them questioning their views and outlooks on death and wondering if they can go back to the lives they came from with their new knowledge.
Review of an Advance Uncorrected Galley
Content Analysis:
Profanity/Language: 1 religious exclamation; 5 mild obscenities.
Violence/Gore: (Worth mentioning, but not tallied, the majority of this novel deals with death and the afterlife, which includes talking about and interacting with the dead); Mention of having fingers cut off as a punishment for thieves; character witnesses someone getting stabbed; man given a poison as a form of assisted suicide; description of boy having been burnt as he tried to escape from a fire and results in his death; man tries to grab and detain a character which causes the man to fall in the water and drown; character mentions how people usually die of dehydration once they get to a certain place; characters told that if they get caught they will be killed; character knees someone in the groin; someone goes after character with a knife; in a fight, one person breaks the arm of another with a hammer; character ties up a man who had been chasing them; character attacked by several people with knives.
Sex/Nudity: Boy and girl hold hands.
Mature Subject Matter:
Death, assisted suicide.
Alcohol / Drug Use:
None
Reviewed By Sally