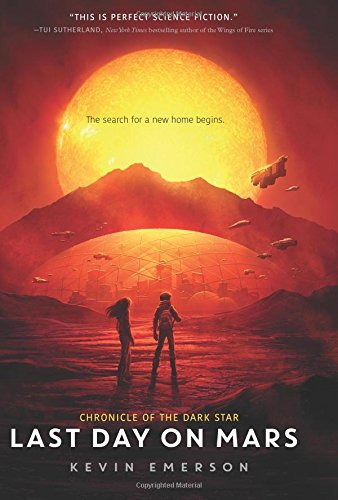 Publisher's Note:
"Last Day on Mars is thrillingly ambitious and imaginative. Like a lovechild of Gravity and The Martian, it's a rousing space opera for any age, meticulously researched and relentlessly paced, that balances action, science, humor, and most importantly, two compelling main characters in Liam and Phoebe. A fantastic start to an epic new series." —Soman Chainani, New York Times bestselling author of the School for Good and Evil series
"Emerson's writing explodes off the page in this irresistible space adventure, filled with startling plot twists, diabolical aliens, and (my favorite!) courageous young heroes faced with an impossible task." —Lisa McMann, New York Times bestselling author of the Unwanteds series
It is Earth year 2213—but, of course, there is no Earth anymore. Not since it was burned to a cinder by the sun, which has mysteriously begun the process of going supernova. The human race has fled to Mars, but this was only a temporary solution while we have prepared for a second trip: a one-hundred-fifty-year journey to a distant star, our best guess at where we might find a new home.
Liam Saunders-Chang is one of the last humans left on Mars. The son of two scientists who have been racing against time to create technology vital to humanity's survival, Liam, along with his friend Phoebe, will be on the last starliner to depart before Mars, like Earth before it, is destroyed.
Or so he thinks. Because before this day is over, Liam and Phoebe will make a series of profound discoveries about the nature of time and space and find out that the human race is just one of many in our universe locked in a dangerous struggle for survival.
Last Day On Mars
by Kevin Emerson
Overall Review:
Exciting right from the beginning, this tale kept growing in suspense right up to the last page. The author did a fantastic job writing to his targeted audience and the quality of this tale is top notch. Written in a way that would be fun reading for middle grade readers, young adults, and adults, this story is engaging with non-stop action. The main characters, being around 12 to 13 years old, are easily relatable. Finding themselves in a few awkward situations, they are challenged to overcome a few hardships and be creative in their problem solving. They discover that home is where you hang your hat and friends and family are irreplaceable. Cool science is presented throughout the book and might even be a draw to readers who have a passion for science-y things. The author, Kevin Emerson, has written 16 books and this has to be one of his best. The ending of Last Day on Mars is suspenseful and fulfilling but left me wanting for more as soon as I closed the book, yet irritated that we have to wait a year till the next book is published. I'm eager for next year when the saga will continue.
Content Analysis:
Profanity/Language: 1 derogatory name.
Violence/Gore: Woman shot and killed with alien gun, no blood, minor description; "Marsquake" causes characters to be in a frightening situation struggling to get out alive; teen girl has possible broken leg; parents trapped beneath collapsed mountain, possibly dead; people subjected to radiation, radiation burns; explosions causing death of many adults, minor description of explosion, some description of hurt people but not bloody or gory; work place sabotaged by bad guy; evil guys with intent to kill humans; 2 characters killed, no blood or gore; kids left behind.
Sex/Nudity: None
Mature Subject Matter:
Evolution, destruction of planets, supernova of suns, Marsquake, sabotage, explosions, terrorism, bad guys, radiation, time travel, aliens with bad ethics, death of family members, gambling.
Alcohol / Drug Use:
None
Reviewed By Beth