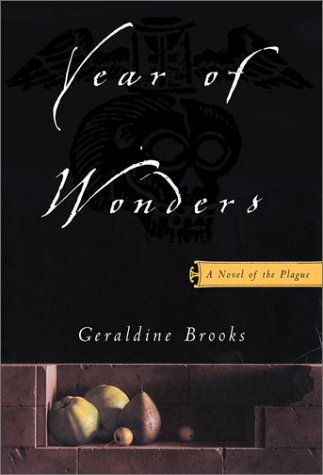 Publisher's Note:
This gripping historical novel is based on the true story of Eyam, the "Plague Village," in the rugged mountain spine of England. In 1666, a tainted bolt of cloth from London carries bubonic infection to this isolated settlement of shepherds and lead miners. A visionary young preacher convinces the villagers to seal themselves off in a deadly quarantine to prevent the spread of disease. The story is told through the eyes of eighteen-year-old Anna Frith, the vicar's maid, as she confronts the loss of her family, the disintegration of her community, and the lure of a dangerous and illicit love. As the death toll rises and people turn from prayers and herbal cures to sorcery and murderous witch-hunting, Anna emerges as an unlikely and courageous heroine in the village's desperate fight to save itself.

Exploring love and learning, fear and fanaticism, and the struggle of science and religion to interpret the world at the cusp of the modern era, Year of Wonders is at once a story of unconventional love and a richly detailed evocation of a riveting moment in history. Like Arthur Golden's Memories of a Geisha and A. S. Byatt's Posession, Year of Wonders blends learning and romance into an unforgettable read.
Year of Wonders: A Novel of the Plague
by Geraldine Brooks
Overall Review:
Geraldine Brooks immerses the reader into the village of Eyam and the devastating despair of the plague in Year of Wonders. Voiced by the protagonist, Anna Firth, the style is spot-on for the year 1666. The social dynamics of a quarantined community under severe pressure is fascinating (and somewhat depressing) to observe. Historical fiction fans will find much to like in this book and Anna is a vibrant character who grows in strength as the book progresses. Aside from some character motivation that stretched plausibility, the book flowed well. With good discussion topics and much food for thought, Year of Wonders made one wonder—What if I had been there?
Content Analysis:
Profanity/Language: 3 mild obscenities; 1 religious profanity; 6 derogatory names; 6 scatalogical words; 3 anatomical terms.
Violence/Gore: Character recounts how a baby was delivered with a thatcher hook; extended delivery scene; report of a mob stoning a character resulting in severe injury and eventual death; description of medieval device, brank; report of child abuse when a character was young; a character is punched; a character purposefully burns self; a character attempts to murder another character and buries them alive; a character is attacked with a knife; a character recounts the terrible things that happened to him in younger years; a character falls to death off a cliff; report of a character losing an eye; mob activity resulting in injuries and a hanging; character imposes self-inflicted injuries with a whip and hooks; attempted drowning of an infant; self-inflicted abortion.
Note: This book details the Plague in the year 1666. There are many deaths, some described in detail, due to the illness.
Sex/Nudity: Frank dialogue detailing why a girl should marry sooner rather than later; two adult characters have sex (no details); reference to a character as a "bitch in heat"; monologue by a character accused of being a witch who admits to sexual activity with the Devil and accuses other women in sexually explicit language of doing the same; a bawdy song/verse; a character runs away with another character and becomes pregnant; a deathbed confession by a character of his philandering; characters encounter other adult characters having sex on the side of the road (no details); three separate instances of adult characters having sex, one of which has some detail; a character becomes pregnant out of wedlock.
Mature Subject Matter:
Death, Faith, Religion, Spouse/Child Abuse, Poverty, Illness, Community Disintegration.
Alcohol / Drug Use:
There are several references to characters that drink or are drunk. A character uses poppy twice to escape realities and sleep.
Reviewed By Cindy