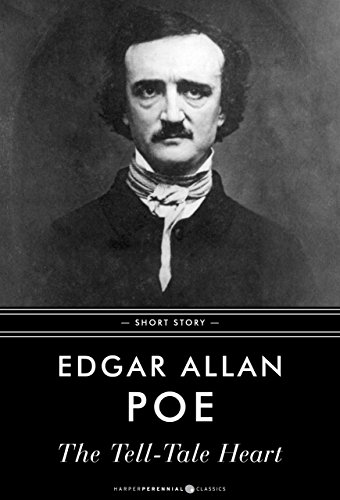 Publisher's Note:
Having killed in a fit of passion, an unnamed narrator quickly hides the victim's body only to be haunted by the victim's relentless heartbeat.
A pioneer of the short story genre, Poe's stories typically captured themes of the macabre and included elements of the mysterious. His better-known stories include "The Fall of the House of Usher", "The Pit and the Pendulum", "The Murders in the Rue Morgue", "The Masque of the Red Death" and "The Tell-Tale Heart".
HarperCollins brings great works of literature to life in digital format, upholding the highest standards in ebook production and celebrating reading in all its forms. Look for more titles in the HarperCollins short-stories collection to build your digital library.
The Tell-Tale Heart
by Edgar Allan Poe
Overall Review:
"I was never kinder to the old man than during the whole week before I killed him."
A Tell-Tale Heart is one of Edgar Allan Poe's most popular short stories. It is an engaging story about a man who is convinced that his neighbor has a vulture's eye and believes he must kill him to have peace of mind, while trying to convince his audience of his sanity. As the story unfolds, more is revealed about the narrator than his victim, as he desperately reaches for peace and quiet. Intriguing, creepy, funny and much too short, this classic dark tale is very entertaining and will appeal to anyone who enjoys a good thriller.
Content Analysis:
Profanity/Language: None
Violence/Gore: A character plots a murder; a character scares another when breaking into his home; a character murders another; a character dismembers a body; a character destroys furniture.
Sex/Nudity: None
Mature Subject Matter:
Insanity, murder.
Alcohol / Drug Use:
None
Reviewed By Olamide