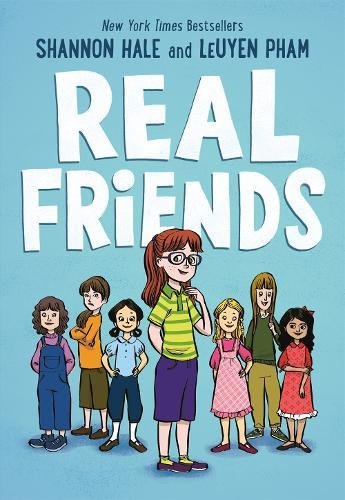 Publisher's Note:
Newbery Honor author Shannon Hale and New York Times bestselling illustrator LeUyen Pham join forces in this graphic memoir about how hard it is to find your real friends?and why it's worth the journey.
When best friends are not forever . . .
Shannon and Adrienne have been best friends ever since they were little. But one day, Adrienne starts hanging out with Jen, the most popular girl in class and the leader of a circle of friends called The Group. Everyone in The Group wants to be Jen's #1, and some girls would do anything to stay on top . . . even if it means bullying others.
Now every day is like a roller coaster for Shannon. Will she and Adrienne stay friends? Can she stand up for herself? And is she in The Group?or out?
This book was sent to Compass Book Ratings for review by First Second Books
Real Friends
by Shannon Hale
Overall Review:
Real Friends is an amazing memoir! Having grown up only a few years after author, Shannon Hale, and being one of the million Jenny's she refers to, this book really resonates with me. She describes the struggle to fit in and make (and keep) friends so well. Half the time you're saying things that aren't cool but you have no idea why. It feels as though you'll never act quite right and will certainly never fit in. Throw in the mean girls and this story will likely stir up some feelings in nearly everyone.
When Shannon was growing up and possibly dealing with anxiety and OCD, they weren't really things that were as well-known and diagnosed as they are today. I can't imagine having to deal with that at a time when it was difficult to get help and it's great that she included that part in her story to show others who might be feeling similar that they're not alone and that maybe they can get help. Shannon also didn't shy away from including mistakes that she made as a child, and I love that she allowed herself to be vulnerable to keep the story real and possibly help others.
This book will primarily be read by a female audience because it's a story about girls but if you know a boy who is anything like my son, devouring any graphic novel I'll get for him, he'll enjoy it as well and learn some great lessons in the process. I also recommend it to parents to read to their elementary-aged children to possibly help them verbalize what they may currently be experiencing but are unable to explain. Everyone can learn about being a little kinder and more inclusive by reading Real Friends.
Review of an Advanced Reader's Copy
Content Analysis:
Profanity/Language: There is no language but there is one instance when an adult says "%#&@!".
Violence/Gore: Several (13) incidents including a few when characters imagine or dream about fighting bad guys; characters play a game that says father shot bears; reference to saying, "sticks and stones may break my bones..."; character's sister slaps her and hits her with a shoe; boy spits on girl; girl hurts another girl in the arm (no injury).
Sex/Nudity: Few (8) brief incidents including boy holds girl down and kisses her; girl calls boy to see if he wants to hang out; girls looking at a magazine with a boy and girl in it and talk about them liking each other; girls call boys and ask them to rate girls' personalities and looks; girl talks about boy asking her to be his girlfriend; reference to mother's boyfriend brother's flirty friends; characters say a celebrity is hot; characters talk about first kiss (just mentioned).
Mature Subject Matter:
Characters play a game referencing pee and poo, OCD, anxiety, childhood romance.
Alcohol / Drug Use:
None
Reviewed By Jenny